Steve Clements is: Raising Kobi
The media hyperbole following last years BL's Blast Off was enough to raise eyebrows in cynical readers. Barton Lynch's annual grommet comp has become somewhat of an institution; it's a festival of goodwill and fun, yet there's also the unavoidable element of talent scouting: Which kids have got the X-factor? Which kids could make it big?
The Manly Daily picked up on this theme in a story focussing on division winner, Kobi Clements. The story was headlined 'Big Future Ahead for Kobi Clements' and the opening line was both bombastic and provocative: "Could this Narrabeen grommet be the next Kelly Slater?"
Comparing a grommet to the 11-time World Champ is an incredibly long bow for a journalist to draw, yet they were only referencing what Lynch himself had said: "I remember hearing about Kelly Slater when he was a young kid ... Kobi Clements is in that league."
"He is one of those kids who is so advanced and so technically good for his age."
At the time Kobi Clements was just seven years old.
*****
Competitive surfing has a chequered history when it comes to child prodigies. For every teenage sensation that successfully made the leap to a professional career there are hundreds who fell by the wayside. Kids who couldn't make the transition either through lack of proper guidance or the exploitation of unscrupulous companies. Fortunately it seems that the churn and burn practice is abating – an element of responsibility is slowly filtering into the sport.
If it is the case that younger surfers are better protected, they can thank the changing demographics of the sport. As the age of surfers increase, second generation surfers are becoming more frequent and they're making their presence felt. The second generation surfer is more likely to have a parent who actively engages in their surfing development, holding bad elements at bay, and navigating the way to a lucrative professional career.
While relatively new to surfing, parental intervention is part of the landscape in most other sports. In tennis and golf – solo sports that offer colossal paychecks - it's been taken to dark and ugly extremes as parents chart the course of their children's lives from a young age and steer it with an iron fist. It may be a long time till surfing gets its own Damir Dokic but the advent of surfing parents is one worth discussing.
Steve Clements is the father of Kobi Clements. He is an ex-professional surfer who spent a decade following the WQS: for three consecutive years he got within strike range of the World Tour, needing just one more result to make it. Clements may have a child prodigy on his hands yet he understands explicitly how hard a surfing career can be – and also how rewarding.
Swellnet: How many kids do you have?
Steve Clements: Three. I've got an older boy, Ethan, he's 14. Then there's Kobi, he's 8, and a little girl, Thais, she's 4.
When did you first notice Kobi was skilled in the water?
To be totally honest I never really looked at him like that, I guess because I see him all the time. I hear it from other people saying it to me. In saying that I guess people started noticing Kobi when he was about 5.
Where you the one who pushed him towards sponsorship or did that come from outside?
It just...kind of fell that way. I'm trying to remember how it came about...
Well, how long has he had a company – in his case Volcom – backing him?
At this age it's only a mini-sponsorship. You know, it's not a big deal.
But it gives him just a bit more exposure than other kids his age.
I guess when he was about 6 he had a sticker on his board. Before that he was just drawing them on.
(Both laugh) Seriously, he just liked the logo to start with and he was just drawing them on for a long time.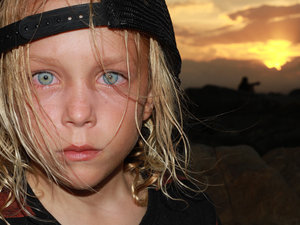 Besides his skill in the water is there anything else that separates Kobi from other kids his age? Say temperament or tenacity?
Energy. He's just got so much energy. When we go out people always say to me how much energy he's got. He's not reserved, he's very outgoing. When you first meet him he will be, but then he's climbing every tree, he's jumping every rock.
We recently did a photo shoot on the Gold Coast and it was quite funny, instead of walking along or standing still for the photos as he was supposed to, Kobi was up a tree and doing these Haka faces. As a Dad I was like, "Ahh Kobi...you shouldn't really be doing that." And they just said, "Let him go, it's great to see an 8-year-old be an 8-year-old."
Do you think there might be any peer pressure now that he has a sponsorship to uphold that image?
It's not something that we talk about. From me as a father I just want Kobi to be himself and enjoy surfing. As an ex-pro I know that's the hardest thing as a surfer – dealing with that pressure. I did it myself, striving on my own with no-one to tell me what's right or wrong. Whereas I just want Kobi to surf and be himself.
What does his sponsorship actually require?
Just put stickers on his board and go surfing. At this age, as it will be for many years, it's not about contests. Whenever I've talked about Kobi's future to anyone, it's only to make him a better surfer. The whole goal with Kobi – that is, for his future – is just to make him a better surfer. It's not about contests or anything else. And so far everyone agrees with me: they just love to see a young surfer do what he loves.
Sponsorship can be a double-edged sword. On one hand you want to protect them from the media but on the other they must be exposed, thats why they've got the sticker on the board. How do you balance that?
In what way?
Perhaps people might try and portray him in a way thats not necessarily healthy.
t hasn't happened yet. Most people that know Kobi know me first, so it would have to come through me. He did a big Wide World of Sports thing recently and he didn't talk much, yet Roz Kelly said a comment to me afterward that was quite lovely, that was: "Its great to see a kid just be his age."
I apologised because they were coming up to do this interview and he wasn't talking, but she said it was fantastic. It was natural. Some people media train their kids at a real young age. They turn up and they're controlled.
You seem to be aware that sponsorship of very young kids could go down a bad path when there's certain expectations that aren't in the kids interest. Would you step in if that pressure was put on Kobi?
For sure. Theres no future in that. If Kobi doesn't want to do something I cant force him.
Well as a parent you can.
Yeah you can, sure, but I don't think you're gonna get the results you're intending to get. You know, if you push someone too hard they're gonna turn around and walk away at some stage. It doesn't matter at what age, it will happen.
Are you speaking from experience there? Is that something you've seen?
Look...you do see parents out there doing stuff and trying really, really hard to get their kids to the next level. It happens in every sport. I feel that because I've been there and done it I've got a realistic expectation of how hard it is. It's such a long road and kids wont respond well to being pushed. It won't work.
Look, I love going surfing with Kobi, and sure, I'm gonna critique him in a surfing way to make him a good surfer, I think I've got the knowledge there, but I'll never talk in terms like 'You have to win this contest. You have to do this. You have to do that.' I know that method will never work.
Some parents can be overbearing with their kids, it goes on in all sports. The Ugly Parent Syndrome tends to occur when parents try to live through their children what they couldn't achieve themselves, are you aware that some people may perceive you in that way?
For sure.
How would you answer them?
Well before they judge, I think they'd have to spend time with us to see what we're actually doing as a father and son. I was told a long time ago, 'if someone gets good at something there'll always be people to knock them down.' Now, I can handle that, but I don't want any of it to be inflicted upon Kobi. I don't want people to criticise him for something he loves to do. As a young kid thats achieving goals quite early, I don't want him to cop any backlash for what I'm doing.
What about when he gets to his teenage years where you wont be able to protect him as much? He'll be in the public eye and perhaps get torn to shreds by anonymous critics? Do you ever think how he might cope?
That's my job as a good dad to help him with that. In every sport there's kids like Kobi that have started early, even in surfing there's Jeremy Flores and John John, who both started very young. That's up to us parents to help them. I cant tell you exactly how I'll deal with it, but I'll deal with it in the best way I can.
So you've thought about it? That he may come up for scrutiny and it may be hard to take at times?
For sure. He'll have to be guided through it. But I'd also like to teach him that sometimes those things make you stronger. Sometimes it's good to be told you're not the best. Sometimes it's good to listen to critics. Sometimes...
What about other surfing fathers out there, do you speak to them much?
There's a lot of dads out there that have seen what Kobi and I are doing and it's inspired them. They've told us that. Which was weird at first – I'm just doing it cause Kobi wants to do it so it seems right – but now I think it's nice to hear. I guess it means I'm doing a good job. The job of being a father, I mean.
You know, we go for earlies in the middle of winter and people freak out that I've got this little kid. But we've got our little routine before school, we surf and we get out and have a hot chocolate and coffee, and we're buzzing. These are the little adventures we have. This is how we gel.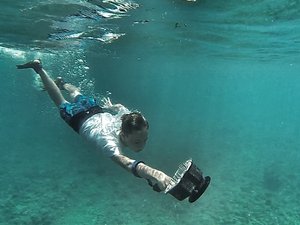 What about your oldest son Ethan, how does he fit in
Ethan can surf, he's into surfing. Yet I did all the same things with Ethan as I did with Kobi but Ethan decided he didn't want to go down that track. You know, not every kid's the same.
However, in the last four years Ethan started getting into photography. He started using my camera and asking about them [Steve is a television cameraman], getting more and more involved. He started coming for earlies, borrowing a housing and taking photos. He's been hanging out with Nathan Smith who's been trying to help him. And you know, as soon as Ethan hit the water with a camera it was like he began surfing again. He loves it, and he's got the perfect subject in his little brother. They're both learning.
Now Ethan's got a proper housing and he's doing a really good job for his age.
(Photos: Kobi at BL's Blast Off by Renee Miller/Surfing Australia; Kobi by Volcom; Team Clements in the Maldives; Ethan diving in)