OK waves tomorrow, with better swells next week
Western Australia Surf Forecast by Craig Brokensha (issued Friday January 27th)
Best Days: Keen surfers tomorrow morning Margs, protected spots Monday and Tuesday morning, Wednesday morning, Thursday morning, Friday morning in the South West
Features of the Forecast (tl;dr)
Small mid-period SW swell for Sat, peaking in the PM, easing Sun
Mod-fresh SE tending E/SE winds developing Sat AM ahead of sea breezes, gusty SE-S/SE Sun AM
Large mix of swells filling in Mon with gusty S/SE winds, strengthening from the S/SE-S (S/SW to the north into the PM)
Easing surf Tue with strong S/SE winds
Reinforcing surf for Wed PM/Thu with gusty SE winds Wed AM, E/SE Thu AM
Recap
Clean conditions with some fun, inconsistent swell to 3-4ft in the South West, tiny to the north, while today the surf is poor with a trough moving through and low point in swell.
This weekend and next week (Jan 28 - Feb 3)
The trough linked to today's change should produce a small mid-period SW swell for tomorrow, building to 3-5ft through the day across the South West, tiny to the north.
Conditions will be clean and fun with winds swinging SE to E/SE through tomorrow morning before sea breezes kick in.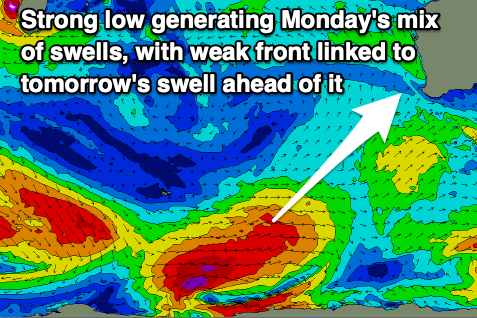 Sunday will see winds revert back to the SE, fresh in the morning with easing mid-period energy from 3-4ft.
Now, looking at our mid-period and groundswell mix for Monday, the polar low linked to this was a touch weaker than expected at it's climax, but we're seeing a great fetch of W/SW gales projected east-northeast through our south-western swell window today. This has resulted in a slight downgrade of the expected size.
A late pulse of swell is due Sunday but Monday should see the peak in energy with a mix of periods and sets to 6-8ft through the morning, pulsing to a more consistent 8ft during the day as the groundswell moves in. Mandurah should push to 2ft+ into the afternoon with 1-2ft waves in Perth after lunch.
Winds are still due to be less than ideal and gusty out of the S/SE, favouring semi-protected spots. Stronger S-S/SE winds are due into the afternoon across the South West, S/SW to the north.
Similar strong S/SE winds are due into Tuesday as the swell eases, improving a touch on Wednesday and tending more SE through the morning.
An elongated fetch of pre-frontal and post-frontal W/NW-W/SW winds should produce a reinforcing mid-period SW swell for Wednesday, peaking into the afternoon and then easing slowly on Thursday.
A pulse back to 6ft is due through Wednesday across the South West, 2ft in Mandurah and 1ft to maybe 2ft in Perth with that morning SE breeze. Cleaner conditions with easing surf is expected on Thursday under fresh to strong E/SE winds, smaller Friday with E/SE winds continuing.
Longer term moderate sized S/SW groundswell pulses are due into early/mid next week but we'll have a closer look at this Monday. Have a great weekend!