Slow, average outlook continues
Western Australia Surf Forecast by Craig Brokensha (issued Wednesday January 5th)
Best Days: Friday mid-late morning for the keen before winds swing too south
Features of the Forecast (tl;dr)
Fading swell tomorrow with S/SE winds
Fresh SE tending strong S/SE winds Fri with a small, building mid-period S/SW swell
Slight drop in mid-period S/SW swell Sat with strengthening S/SE winds, easing further Sun with similar strong S/SE winds
Fading S/SW swell Mon with strong SE tending S/SE winds
Recap
Bumpy though improving surf through yesterday morning across the South West but only small in nature. The afternoon saw a touch more energy but with deteriorating conditions. Further north the waves are clean but tiny.
Today conditions have improved again size dawn with a slow 3-4ft wave on the Margaret River south swell magnets, 1ft in Mandurah and 0.5-1ft across Perth.
This week and weekend (Jan 6 - 9)
Unfortunately the swell seen into yesterday and this morning (if you can call it that) was one of two mid-period S/SW swells due through this period, with a secondary pulse due to build Friday, peak overnight and ease slowly on the weekend.
We'll see the size ease into tomorrow with unfavourable S/SE winds across the South West, not ideal at all.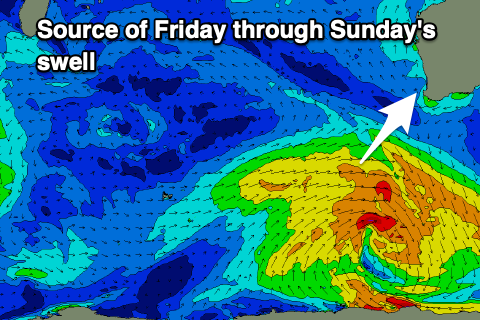 Friday should become a little cleaner as winds shift back to the SE though remaining fresh along with the building swell. The source of this swell is a polar low that's formed south-west of us today.
The low is poorly structured and not overly strong with a broad though weak fetch of strong W/SW winds due to move through our swell window this afternoon and evening. At the base of the low a slightly stronger fetch of SW gales should produce a reinforcing pulse of S/SW swell for Sunday.
Looking at the expected size and it's nothing significant at all with building sets to 4ft later Friday, peaking Saturday to the 4ft range, then easing slowly from an inconsistent 3-4ft on Sunday morning. Don't expect any size across Perth or Mandurah.
Winds are the main issue for this swell and not favourable for the south swell magnets with strengthening S/SE breezes on Saturday, persisting Sunday. Winds should swing more SE on Monday but the swell will be small to tiny and fading.
Longer term the outlook remains average with nothing significant on the cards at all. Check back Friday for an idea on when the next significant swell will develop.