Plenty of windows to the north, flukier in the South West
Western Australia Surf Forecast by Craig Brokensha (issued Monday October 4th)
Best Days: Protected spots in the South West tomorrow morning, Perth and Mandurah in the morning, Wednesday morning, Thursday morning Perth and Mandurah, Saturday morning
Features of the Forecast (tl;dr)
Building W/SW groundswell this afternoon, peaking tomorrow AM with fresh S/SW-S tending S/SW winds in the South West (moderate SE in Perth and Mandurah in the AM)
Easing swell Wed with E/NE tending NW and then W winds
Smaller Thu with fresh NW winds in the South West (NE in the morning Perth and Mandurah)
Mod-large mid-period SW swell building late Fri, peaking Sat AM with mod-fresh SE tending S/SW winds
Easing SW swell Sun with NE tending NW winds
Recap
Poor conditions all round on the weekend with onshore winds and plenty of size, biggest into yesterday morning before easing through the afternoon and a bit smaller today.
Margs has remained onshore this morning but Perth and Mandurah saw earlier lighter winds and fun, workable options.
This week and weekend (Oct 5 - 10)
We'll see conditions improve for Perth and Mandurah tomorrow morning, while the South West will be workable in protected spots.
A new, mid-period W/SW swell that's due to arrive this afternoon should peak tomorrow morning, generated late last week by a broad but patchy fetch of strong to gale-force W/SW winds north and north-east of the Heard Island region.
The South West should see surf in the 8ft range tomorrow morning, easing through the day with 3ft+ waves in Mandurah and 3ft sets across Perth. Winds should be moderate from the SE in Perth and Mandurah varying between S/SW-S across the South West and sea breezey across all locations into the afternoon.
Wednesday is the day in the South West with a light E/NE offshore, but get in early as winds will shift light NW quickly and W'ly into the afternoon ahead of the next front.
Easing sets from the 6ft range are due in the South West, 2ft+ across Mandurah and 2ft in Perth.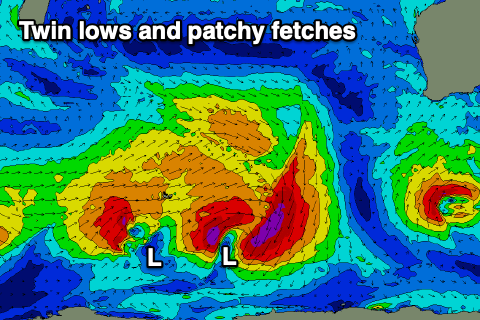 Thursday looks a touch smaller again with a NE offshore in Perth and Mandurah through the morning, NW across Margs, strengthening through the day.
Now, our large, long-period SW groundswell that was slated for late in the week, forecast to develop by both leading weather models ECMWF and GFS, has unfortunately been downgraded.
We're still set to see a strong polar low firing up around the Heard Island region this evening, but it will have dual centres, and as a result offer a patchy and unconsolidated fetch of W/SW gales through our swell window.
This will produce a weaker, mid-period SW swell that will arrive later (due to lower period swells travelling slower) kicking Friday afternoon and peaking Saturday morning.
The South West should offer 6ft to occasionally 8ft sets, 2ft to occasionally 3ft waves in Mandurah and 2ft surf in Perth. Locally, winds won't be ideal on Friday ahead of the swell with gusty S/SW breezes (S/SE early in Perth and Mandurah), while Saturday will be cleaner with SE winds due across all locations ahead of sea breezes.
Smaller surf should be seen Sunday under a NE tending NW breeze.
Longer term, we're looking at a possible strong cold outbreak south-west of us into early next week, bringing some renewed swell energy (but with wind). More on this Wednesday though.