Wider window for the weekend, fun early next week
Western Australia Surf Forecast by Craig Brokensha (issued Friday July 30th)
Best Days: Perth and Mandurah tomorrow morning, Perth and Mandurah Monday morning, all locations Tuesday, the South West Wednesday morning, all locations Thursday
Features of the Forecast (tl;dr)
Easing large swell tomorrow with fresh W/SW winds in the South West, variable tending light offshore in Perth and Mandurah during the morning
Stormy SW swell Sun with strong to gale-force SW winds, tending S/SW late and easing
Easing mid-period SW swell Mon with moderate W/SW winds in the South West, light E/NE in Perth and Mandurah
Smaller surf Tue and Wed with variable tending light offshore morning winds across all locations
New mix of swells filling in Thur with E/NE tending N winds
Recap
Wednesday's oversized, stormy surf eased back in size yesterday morning but started to pick up into the afternoon with strengthening winds and building W/NW windswell.
Today the second pulse of XL W/SW groundswell is filling in, mixed in with large amounts of W/NW swell but with poor conditions across all locations.
This weekend and next week (Jul 31 – Aug 6)
Today's second pulse of XL, W/SW groundswell in the week should peak this afternoon to 15-20ft in the South West, 4-6ft in Mandurah and 3-5ft across Perth.
Winds will slowly abate but remain onshore out of the W/SW, and then we have tomorrow.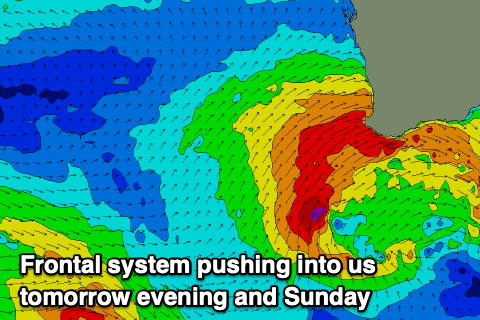 In the updates through the week we were looking at periods of possible lighter winds in Perth and Mandurah for tomorrow morning, and looking at the hi-res modelling, it's shaping up favourable for most regions.
Perth and Mandurah should see variable offshore winds tomorrow morning, and there's even a slim chance that parts of the South West will see variable winds. More likely is fresh and gusty W/SW winds, strengthening into the afternoon.
The swell will still be very large, easing back from 12-15ft in the South West, 4-5ft in Mandurah and 3-4ft across Perth.
The next polar front will push up and into us tomorrow, with strong to gale-force SW winds due to strengthen and become more consolidated, reaching gale-force on Sunday kicking up another, large stormy swell.
The South West looks to build back to 12-15ft into the afternoon, smaller early with stormy 4-5ft waves in Mandurah and to 4ft across Perth. Winds will be strong to gale-force from the W/SW on Sunday, swinging S/SW later and easing, with Monday coming in much cleaner under E/NE winds in Perth and Mandurah. The South West unfortunately looks to see moderate, lingering W/SW winds.
The South West looks to ease back from 10ft range, with 3-4ft sets in Mandurah, 3ft in Perth.
Tuesday will be smaller, but our variable tending light offshore wind looks to develop finally across the South West, creating clean conditions but with a leftover, easing, mid-period swell.
Wednesday will start smaller again but with those light offshore winds and weak sea breezes, and our new, mid-period swell has been pushed back to the late afternoon and downgraded a little.
This pulse and a new groundswell for Thursday will be generated by a drawn out fetch of W/NW winds moving through our swell window, strengthening while moving closer towards us.
Size wise, the swell looks to peak Thursday afternoon to 5-6ft in the South West, 2ft in Mandurah and 1-2ft across Perth with E/NE tending N winds. Beyond this there's nothing too significant on the cards, but we'll review this Monday. Have a great weekend!