Larger, windier, limited
Western Australia Surf Forecast by Craig Brokensha (issued Monday July 26th)
Best Days: Possibly Perth and Mandurah Saturday morning
Features of the Forecast (tl;dr)
Large to XL surf with strong onshore winds out of the west, near gale-force tomorrow morning
Possible window of S-S/SE winds in Perth and Mandurah Sat AM with an easing XL W/SW groundswell
Recap
Poor conditions across all locations Saturday with a large, stormy swell, easing back a bit in size yesterday though picking up again today with the next front.
This week and weekend (Jul 27 – Aug 1)
We're only a few days into this poor run of large, onshore surf and terrible weather but it's going to last until early next week at the earliest and even then it looks to be only a temporary reprieve before the fronts move in again the following week.
A strong, drawn out node of the Long Wave Trough is focussing and strengthening cold fronts up and into us, with a very significant one due to move in tomorrow, projecting W/SW gales into the coast.
This frontal progression, spawning off a polar low will bring an XL increase in stormy W/SW swell through the day, reaching 15-20ft across the South West, 6ft in Mandurah and 4-5ft across Perth along with strong to gale-force W/SW winds, easing slightly through the afternoon.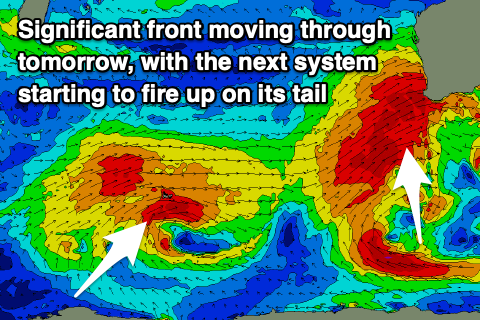 The swell should ease into Wednesday as winds shift back to the W/NW, strengthening ahead of another significant incoming storm. Perth and Mandurah may see lighter NW winds on Wednesday morning but conditions will still be poor and a mess.
Now, this progression will originate from another polar low, with a fetch of severe-gale SW winds projected from the Heard Island region tomorrow afternoon and evening, up towards us through Wednesday and Thursday, with the XL W/SW groundswell due to arrive Friday, peaking later in the day.
Ahead of the swell, Thursday will consist mostly of building W/NW windswell with strengthening W/NW winds, while Friday should see surf building back to 15-20ft across the South West into the afternoon, 4-6ft in Mandurah and 3-5ft across Perth. Conditions will remain poor with strong W-W/SW winds.
In the wake of the progression, winds look to swing S/SW but remain strong on Saturday, shifting SW into the afternoon, with Perth and Mandurah likely to see S/SE-S winds in the morning. We'll see the XL W/SW groundswell easing, dropping from 12-15ft in the South West, 3-5ft in Mandurah and 3-4ft across Perth.
The next frontal system wont be far away though, with a polar storm due to project up and into us Saturday evening and Sunday, bringing W/SW-SW winds and another near XL SW groundswell.
Whether or not winds back off into Tuesday and Wednesday as this storm clears is unsure but we'll likely see weaker fronts continuing to keep the South West onshore, with lighter winds to the north. More on this in the coming updates.