Fun tomorrow, oversized swell early next week
Western Australia Surf Forecast by Craig Brokensha (issued Wednesday May 19th)
Best Days: Tomorrow, Sunday morning Perth and Mandurah, protected spots Monday, Tuesday, Wednesday
Features of the Forecast (tl;dr)
Easing mix of swells tomorrow with morning E/NE winds (variable across the South West into the PM)
Larger, mid-period W/SW swell for Sat with fresh W/NW tending S winds in the South West, N/NW-NW to the north, strong W/NW into the PM
Easing swell Sun with stronger onshore winds in the South West, variable to the north in the AM
Oversized, long-period SW groundswell for Mon with strong S/SW winds, easing slowly Tue with light winds
Recap
Poor surf the last two days with not much in the way of swell and less than ideal winds, though light through the morning yesterday and light most of the day to the north.
Today the South West is still poor with bumpy conditions and small surf, but Perth and Mandurah were better with 1-2ft sets and clean conditions.
A new mix of groundswells should fill in this afternoon and kick the South West to 5-6ft on the sets (currently 4-5ft), 2ft+ across Mandurah and a more convincing 1-2ft in Perth.
This week and weekend (May 18 - 23)
This afternoon's mix of swells are due to ease back through tomorrow, coming in a touch under this afternoon's size, that being more likely 4-6ft in the South West, 2ft in Mandurah and 1-2ft across Perth.
Conditions should be much cleaner with a light E/NE offshore in the morning, tending variable in the South West with S/SW sea breezes in Perth and Mandurah.
Friday will be a lay day as the surf eases further along with increasing NW tending W/NW winds in the South West, variable early to the north but tiny ahead of fresh afternoon W/SW-SW breezes.
Our new mid-period W/SW swell for Saturday is on track, with the mid-latitude low linked to generating a healthy burst of strong to gale-force W/SW winds at its strongest stage last night and this morning. The low is now weakening and will break down while continuing east tomorrow. One final burst of SW winds Friday should add some additional energy to the mix, with Saturday coming in with a variety of sizes, periods and directions.
Sets should come in around 6ft+ across the South West with 2-3ft waves in Mandurah and 2ft waves across Perth.
Winds will be an issue though with a fresh W/NW'ly due to give into a S tending S/SW change through the morning across the South West as a trough moves in, with Perth and Mandurah seeing strengthening NW-N/NW breezes, tending strong W/NW early afternoon and then S'ly towards dark.
Sunday will remain poor in the South West with lingering onshore W/SW winds, strengthening through the day as a strong low pushes up and into us (discussed in more detail below).
Perth and Mandurah should see variable offshore winds in the morning before increasing from the W/SW-SW and the swell will be easing back from 2ft in Perth and 2ft+ across Mandurah.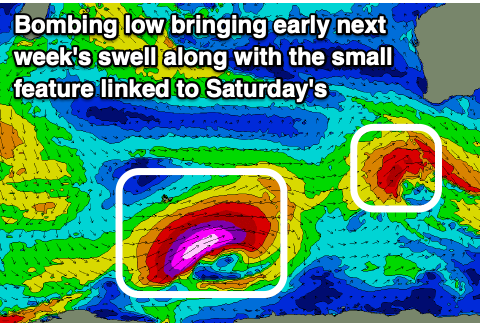 Now, looking at the strong polar low that's due to form around the Heard Island region early tomorrow, and the strength and longevity have been upgraded and extended, resulting in an upgrade of the size due early next week. This will actually be classed as a bombing low with it dropping just over 24hPa in pressure within the coming 24 hours.
We should see a great initial fetch of storm-force W/SW winds projected slowly north-east tomorrow and Friday, with the low weakening but maintaining a slowly weakening fetch of SW tending S/SW winds as it pushes up and into us later in the weekend.
An oversized long-period SW groundswell mixed in with some mid-period S/SW energy is due from the low, peaking Monday to 12ft+ with 15ft cleanups more than likely in the South West, 4-5ft across Mandurah and 3-4ft or so in Perth with the additional windswell.
Conditions will be poor though with strong S/SW winds as the low pushes into us, but Tuesday looks much cleaner in Perth and Mandurah with light to moderate E/NE morning winds, variable into the afternoon. Margs will likely be lumpy with a light S/SE tending variable breeze and size wise we should still see easy 10ft sets in the morning, 3-4ft across Mandurah and 3ft in Perth.
Wednesday will be smaller and with favourable, persistent E/NE winds.
Following this there's no new swell due until late week but more so next weekend, more on this Friday.