Large swell pulses with varying winds
Western Australian Surf Forecast by Craig Brokensha (issued Friday 30th April)
Best Days: Saturday, Sunday, Monday from mid-morning in the South West, Tuesday, possibly dawn Wednesday
Features of the Forecast (tl;dr)
Easing mid-period W/SW swell tomorrow with variable E/NE tending N/NE and then NW winds
Mid-period SW swell for dawn Sun ahead of a large, powerful SW groundswell building into the PM with light E winds ahead of sea breezes, strong S/SE late in the South West
Easing S/SW groundswell Mon with strong SE tending E/SE-E winds, smaller Tue with strong E/NE tending variable winds
Building SW groundswell Wed PM but with NW winds arriving through the day, tending strong SW, swell peaking Thu AM with strong S/SW winds
Recap
Clean surf at dawn yesterday but quickly deteriorating during the morning with increasing onshore winds and easing surf from the 6ft range. Perth and Mandurah were cleaner and smaller, dropping from a fun 2-3ft.
Today our onshore mid-period W/SW swell has filled in with less favourable winds, choppy across most breaks and best in protected spots.
This weekend and next week (May 1 - 7)
The front linked today's winds and swell is clearing off to the west, with winds due to go variable and light E/NE across most spots tomorrow morning, tending N/NE and then light NW across the South West (SW Perth and Mandurah). We'll see today's swell easing back in size from the 5-6ft range in the South West, 2ft+ across Perth and Mandurah.
We then look at our large, long-period SW groundswell due Sunday afternoon and satellite passes of the low early this morning are looking great. We've got a broad swathe of storm-force winds surrounded by weaker severe-gales, and we'll see similar strength winds projecting through our south-western turning southern swell window today and tomorrow morning, weakening thereafter.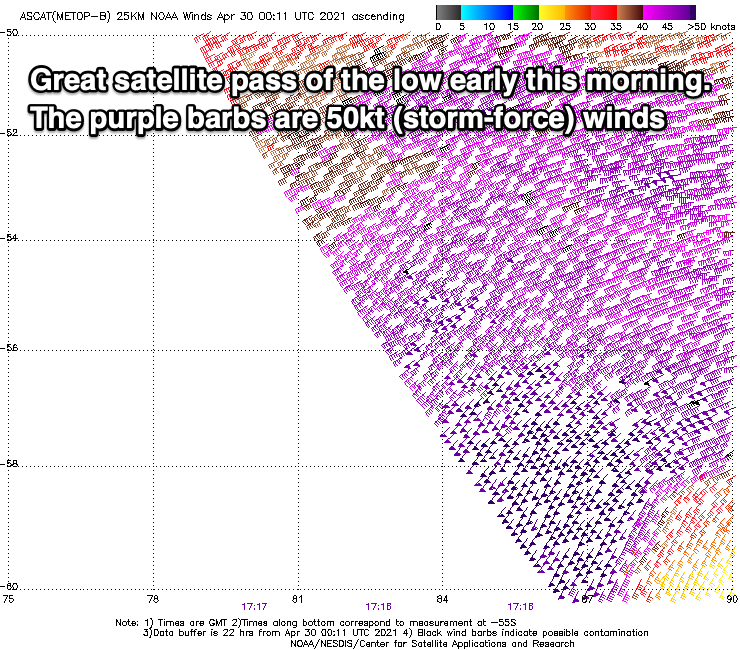 Just ahead of the low though, a pre-frontal fetch of strong W/NW winds will generate some mid-period SW swell ahead of the long-period energy into the afternoon.
So dawn Sunday looks to come in around 6ft+ in the South West but the swell should start kicking mid-morning with 8ft sets with the bulk of the long-period energy filling in after lunch, building to 10ft across most breaks late afternoon/evening with 12ft cleanups on the magnets. Deep water reefs are likely to be bigger again on dark but wind affected.
Perth and Mandurah will be small to start with and 1-2ft, with the swell kicking late in the day to 3ft+ and 3ft respectively.
The swell should peak overnight, easing back Monday from a S/SW direction and a large 10ft on the sets across Margs, 3ft+ in Mandurah and 3ft across Perth.
Coming back to the winds and it looks like we'll see light E'ly offshore breezes across all locations Sunday morning, giving into SW sea breezes but then strong S/SE towards dark across the South West as a high moves in from the west.
Monday looks windy and tricky with improving winds, strong SE in the early morning, shifting E/SE late morning and then even possibly E before reverting back to the E/SE late. Therefore early won't be great in the South West but it will improve as the day progresses.
Tuesday will see the S/SW energy easing further with small easing 2ft sets in Perth and Mandurah, 5-6ft on the sets in the South West but with strong morning E/NE winds, variable into the afternoon.
A low point in swell is expected Wednesday and the winds revolve around the timing of a low forming off the coast and pushing east. This looks to occur through the morning and it'll bring onshore NW winds with it, shifting SW behind it and with strength.
This will spoil a new, building SW groundswell, generated by the secondary patchy low forming in a similar spot to the low generating Sunday/Monday's swell but with a less consolidated fetch.
We'll see a slimmer fetch of severe-gale to storm-force W/NW winds generated around the northern and eastern flanks of the low, with the swell having strength but coming in with less size and consistency.
An afternoon kick in size Wednesday is due, but with those onshore winds, peaking Thursday morning in the 8ft range across the South West, 2ft to possibly 3ft in Mandurah and 2ft+ Perth. Winds will remain onshore though and strong from the S/SW tending SW in the South West, possibly lighter S'ly early to the north.
Friday will be small and onshore W/SW tending SW winds will persist.
Longer term another similar low forming further west looks to generate a good, long-period SW groundswell for next Saturday, but we'll have a closer look at this Monday. Have a great weekend and enjoy the action from the Margaret River Pro which will kick off Sunday.