Fun surf continues
Western Australia Surf Forecast by Craig Brokensha (issued Wednesday March 31st)
Best Days: Thursday morning, Saturday afternoon in the South West, Sunday morning
Features of the Forecast (tl;dr)
Easing mid-period W/SW swell tomorrow with favourable winds, smaller Friday and deteriorating, strengthening S/SE winds
Mid-period S/SW swell building Sat, easing Sun (peaking Sun AM in Perth and Mandurah) with generally favourable winds (not so much in the South West Saturday with strong SE breezes, tending variable)
Strong, new S/SW groundswell on the cards for next weekend
Recap
The first pulse of W/SW swell filled in nicely yesterday with light winds and clean 4-6ft sets across the South West in the morning (holding today) 2ft across Mandurah and bigger into the afternoon with 2-3ft sets this morning but with some slight bump. Perth was a clean 1-2ft yesterday, similar again today with light winds.
This week and next (Apr 1 - 9)
The surf should hold a similar size into tomorrow morning as the final pulse of mid-period W/SW swell fills in overnight, keeping 4-6ft surf hitting the South West, 2-3ft in Mandurah and 1-2ft across Perth, easing through the day and smaller Friday.
Conditions should be nice and clean across all spots with an E'ly offshore in the South West, tending E/NE and then with weak sea breezes, with S/SE-SE morning winds in Perth and Mandurah.
A trough will move in Friday bringing strengthening S/SE winds, more variable in Perth with afternoon sea breezes.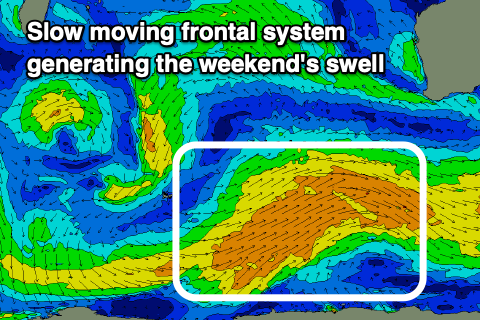 Our new, mid-period S/SW swell for the weekend is on track with a broad, though not overly strong polar front due to project up towards us this evening, generating strong W/SW-SW winds. The front will be slow moving, helping to generate some healthy size, with building surf Saturday to 4-5ft+ into the afternoon, easing from a similar size Sunday morning.
Perth and Mandurah probably won't see any size until Sunday with sets to 2ft across Mandurah, 1-1.5ft in Perth with the possible odd 2ft set.
Conditions on Saturday will be windy across the South West, with a strong SE offshore, lighter into the afternoon and E/SE-E/NE tending variable winds further north.
E-E/NE offshores are due Sunday ahead of afternoon sea breeze, so get in through the morning. Come Monday the swell will be on the ease and a trough will bring a W'ly change that'll only be temporary, with offshore winds due back into Tuesday.
Longer term, strengthening but not overly consolidated frontal activity should produce some new swell late week, with a larger S/SW groundswell on the cards for next Saturday. More on this in Friday's update though.