Clutching at straws, more energy from next weekend
Western Australia Surf Forecast by Craig Brokensha (issued Friday March 12th)
Best Days: South West magnets tomorrow morning and for the desperate Sunday morning, Tuesday morning South West magnets, similar Wednesday, Thursday/Friday mornings in the South West
Features of the Forecast (tl;dr)
Small S/SW swell for tomorrow with morning E/SE winds, easing Sun with morning E winds
Small, mid-period S/SW swell for late Mon, peaking Tue with moderate E/NE/E morning winds, holding Wed with E/SE morning winds
Slightly better mid-period SW swell for Thu PM and Fri AM with S/SE-SE morning winds on the former, E/SE Fri AM
Better W/SW swells from next weekend into the following week
Recap
Fairly average weather, wind and surf yesterday and today, with a slight up tick in swell across the South West.
This weekend and next week (Mar 13 - 19)
Today's small lift in mid-period SW swell should hold a similar size tomorrow though from a more S/SW direction as a secondary, small mid-period swell fills in. These swells have been generated by weak front activity the last few days and sets to 3ft+ are due on the magnets tomorrow morning, easing into the afternoon, fading from 2-3ft on Sunday.
Winds will improve, swinging E/SE, moderate to fresh in strength, holding out of the S/SE into the afternoon. Sunday looks similar but with sea breezes.
We'll see winds tend more E/NE and with strength on Monday morning but the surf will be tiny.
From Tuesday we'll see mid-period swell energy spreading up from unfavourably aligned and relatively weak frontal activity skirting around the blocking highs setting up south-west and west of us.
Most of this swell energy will only favour the South West, with no major size and an unfavourable direction leaving Perth and Mandurah tiny.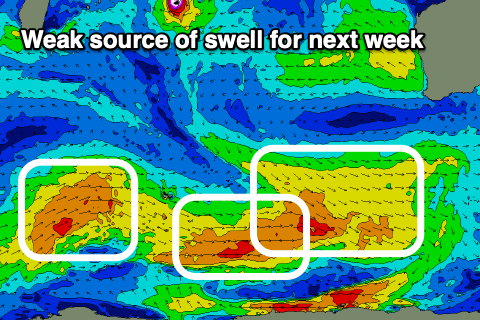 Our first pulse on Tuesday will be generated by a late burst of strong W/NW winds south-west of us tomorrow. The swell might be seen Monday afternoon, though Tuesday will likely see 3ft sets across the South West magnets, flat to the north.
This swell will hold a similar size Wednesday, but a slightly better SW swell is due Thursday, building through the day, easing Friday.
The source of this swell will be a weak front pushing across the Heard Island region tomorrow and Sunday, weakening while pushing further east Monday.
Size wise, the swell will be only in the 4ft+ range across the South West, maybe 1-1.5ft Mandurah and tiny Perth.
Conditions through Tuesday-Friday look favourable with light morning offshore winds (possibly more S/SE-SE Thursday morning) ahead of afternoon sea breezes.
Into next weekend we may see a slightly better W/SW swell, though still on the small side of the coin, with a moderate sized number for Sunday/Monday. More on this in Monday's update though. Have a great weekend!