Monday, 22 February 2021
Another week, another 'bombing' low
Western Australia Surf Forecast by Craig Brokensha (issued Monday February 22nd)
Best Days: Margs tomorrow morning, late Friday in the South West, Saturday, Sunday morning
Features of the Forecast (tl;dr)
Easing S/SW swell with fresh E/SE offshore winds tomorrow AM, bottoming out Wed/Thu
Large, inconsistent, SW groundswell building late Friday, peaking Sat with gusty morning SE winds
Recap
The surf bottomed out Saturday morning, best across the South West swell magnets, but moving into yesterday, our XL, long-period SW groundswell filled in and with strength. Offshore winds and pumping surf building to 12-15ft through the morning across the South West, a touch delayed further north.
Today there's still tons of size left in the South West with a reinforcing S/SW swell but conditions are tricky with a strong offshore wind and easing 8ft sets. Mandurah is back to 2ft but nice and clean, similar across Perth.
This week and weekend (Feb 23 - 28)
The XL, groundswell seen from the 'bombing' low will continue to ease through this afternoon, smaller tomorrow leaving the South West with the best waves, tiny to the north. Margs should ease back from 4-5ft on the magnets under a fresh E/SE offshore, giving into afternoon sea breezes.
Winds will become less favourable on Wednesday and stronger from the S/SE-SE as the swell continues to fade, poor Thursday with a low point in swell.
Now, as touched on last update, the next significant increase in swell is pinned for late Friday but more so Saturday.
This swell is due to be generated by another 'bombing' low, the second within a week, but the catalyst for this one will be quite interesting.
Tropical Cyclone Guambe which is currently positioned between Madagascar and South Africa will be captured by a cold front projecting up from the south-west, with it dragged down, back into the westerly storm track. The moisture and instability from Guambe will combine with cold polar air, resulting in the rapid intensification and deepening of a low attached to the cold front, more than 24hPa in 24 hours.
This will classify the storm as a 'bombing' low again, with the resultant fetch being storm-force out of the W, while tracking east-southeast through our swell window.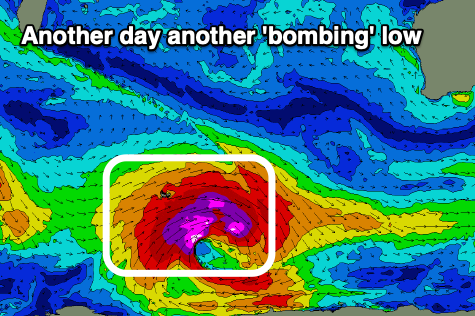 This track isn't ideal, resulting in a little less size than if it projected east-northeast, and it'll be even less favourable for Mandurah and Perth (though the initial stages and W/SW fetch look nice). Still, we'll see a large, long-period SW groundswell generated, arriving Friday afternoon and peaking Saturday morning to 10ft to possibly 12ft, 3ft in Mandurah on the sets and 2ft to possibly 3ft in Perth.
Conditions are this stage look OK with a gusty SE breeze in the South West, E/NE to the north with a heat trough drifting south-east, but we could see winds looking more favourable for the South West if we're lucky. We'll keep an eye on this in the coming updates though.
Beyond this the outlook goes quiet, so make the most of the current and coming energy.