Monday, 5 October 2020
Large swells on the way
Western Australia Surf Forecast by Craig Brokensha (issued Monday 5th October)
Best Days: Today, tomorrow morning South West magnets, Friday morning, Saturday, Sunday morning
Recap
Protected spots where the go on Saturday with a new S/SW swell to 6-8ft across the South West but with strong southerly winds, a bit cleaner in Mandurah and Perth to 2-3ft.
Yesterday wasn't too flash with winds returning onshore across the South West, better to the north with a bit less size.
Today we've seen winds finally swing offshore across the South West with fun 4-6ft sets on the swell magnets, 2ft in Mandurah and tiny across Perth.
This week and weekend (Oct 6 - 11)
Make the most of today's waves as we'll see the swell easing through tomorrow as winds shift to the E/NE at dawn, N/NE late morning and then N/NW into the afternoon as a cold front pushes up from the south-west.
Perth and Mandurah are due to be tiny, with Margs easing from 3-4ft or so on the magnets.
Wednesday will be a lay day with stronger NW winds developing through the day and no new significant swell. Perth and Mandurah may see early N/NE winds but with no size to the surf.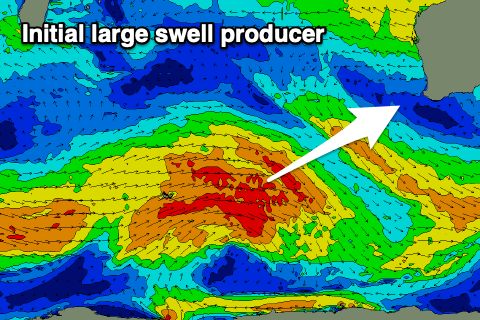 Our new W/SW groundswell for Thursday is on track, as well as a larger follow up swell for the weekend.
Thursday's swell is currently being generated by a broad and slow moving frontal progression that's currently just east of the Heard Island region. A broad fetch of W/SW gales are being generated with this fetch weakening slightly before a secondary intensification projects up towards us, also weakening while nearing closer.
The groundswell, mixed in with mid-period W/SW swell energy should peak Thursday to an easy 8ft across the South West, if not for the sneaky bigger one, 3ft across Mandurah and 2-3ft in Perth.
A drop in size should be seen Friday, but moving into the weekend we've got a stronger, longer-period SW groundswell on the way.
This will be produced by a stronger polar front projecting up, closer towards us over the coming days, on top the active sea state generated by the system before it. A great fetch of gale-force W/SW winds will be produced, with the swell due to build Saturday and peak later in the day, easing Sunday.
Size wise we're looking at large 10-12ft waves in the South West, 3-4ft across Mandurah and 3ft sets in Perth at the swells' peak.
Coming back to the local winds through this period and Thursday unfortunately looks to see lingering onshore S/SW winds in the wake of the front Wednesday, tending more variable on Friday.
Saturday should see offshore E/SE winds across all locations ahead of sea breezes, more S/SE on Sunday but we'll review this in the next couple of updates.
Easing surf is due into next week with favourable morning winds, but more on this Wednesday.