Wednesday, 12 June 2019
Easing surf with variable conditions, extra-large swell for next week
Western Australia Surf Forecast by Craig Brokensha (issued Wednesday 12th June)
Best Days: Keen surfers Margs tomorrow, Mandurah Perth tomorrow and Friday mornings, Monday, Tuesday
Recap
Another episode of extra-large stormy swell in the South West yesterday, larger and onshore around Perth and Mandurah.
This morning the swell had eased back to 10ft+ in the South West but with poor onshore winds, cleaner around Mandurah with a more variable breeze with lumpy 3-4ft sets, still onshore and to 3ft around Perth.
Today's Forecaster Notes are brought to you by Rip Curl
This week and weekend (Jun 13 - 16)
Moving into tomorrow, hi-res wind modelling is indicating a funky wind pattern tomorrow across all locations. Firstly around Perth and Mandurah we'll see variable tending light offshore winds, shifting NE through the later morning and N'th into the afternoon.
Margs looks to see SW winds at dawn, but these are forecast to tend variable and even possibly E/SE-SE through the day and then S/SW into the afternoon. Don't expect great conditions but the waves will be much more surfable than they have been.
Margs looks to drop from 6-8ft on the sets, 2-3ft in Mandurah and 2ft in Perth, smaller into Friday with onshore W/SW winds into the South West, variable for a short period further north again.
The weekend will remain onshore with persistent SW winds in the South West, W'ly Sunday with background levels of SW groundswell.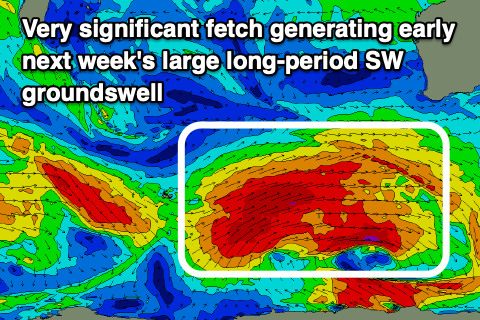 Mandurah and Perth should see morning S/SE winds Saturday but be on the small side, tinier Sunday with N/NE breezes.
Of greater importance is our large long-period SW groundswell due early next week, and we've had an upgrade in size, with the swell looking to head more towards the extra-large size range.
A significant polar frontal progression will develop around the Heard Island region Friday, with a pre-frontal fetch of severe-gale to storm-force W/NW winds due to be immediately followed by a broader and slow moving fetch of severe-gale W/SW winds, projecting slowly towards the Bight.
An extra-large long-period SW groundswell will be generated, with an initial pulse due Monday morning ahead of the swell proper into the afternoon.
Margs should build steadily all day Monday to 12-15ft, 3-5ft in Mandurah and 3ft+ in Perth.
A high moving in from the west will swing winds offshore out of the E on Monday, creating excellent to epic conditions across all locations, more S/SE into the afternoon,
Tuesday will then see winds quickly swing from the E/NE to N/NE as the swell eases from the large size range.
Following this we may see another large long-period SW groundswell later in the week, but more on this Friday.