Wind blown weekend, better early next week
Western Australia Surf Forecast by Guy Dixon (issued Wednesday 5th August)
Best Days: Thursday, Friday, Monday, Tuesday.
Recap:
We have seen a steady easing trend this week with a lack of frontal activity moving through the swell window. Yesterday's 3-4ft swell has now faded to an inconsistent 3ft across the South West, with Metro beaches near enough flat. The silver lining is that winds have been light offshore all day each day creating crisp, clean conditions.
This week (August 5th - August 7th):
The remainder of the week is continuing to look pretty quiet with subtle pulses in wave period (Thursday) but no real kick in surf size. In fact, the easing trend looks to continue, easing back to around 2-3ft tomorrow for the South West, and further on Friday. Perth and Mandurah really can't get much smaller before turning into a lake. Unfortunately, that looks entirely possible.
A ridge of high pressure will continue to reside over the state steering light/moderate offshore breezes right along the coast for the remainder of the week. On Thursday, the South West is looking at northeasterly breezes in the morning before lightening and tending due easterly during the afternoon. These northeasterly breezes will be a touch more pronounced along the Perth/Mandurah stretch so a few bumps and ribs will likely form on the surface, however the due to the lack of swell, it's not going to be a huge issue.
Friday morning will see light/variable winds right across the South West, with light northeasterly breezes across the Metro beaches. As the morning progresses into afternoon, winds will swing light westerly across the South West, and southwesterly across the Perth stretch with a trough ahead of an approaching front.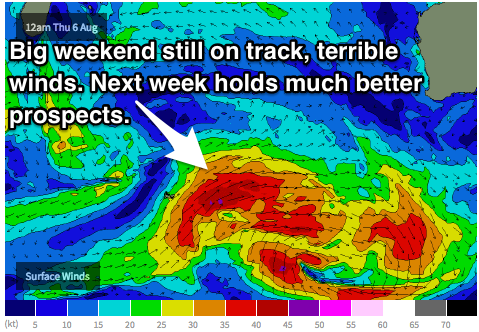 This weekend (August 8th - August 9th):
The weekend's swell event looks to be still on track, generated by a broad frontal progression steering west/southwesterly gales from the Heard Island region. We can expect a late increase on Saturday afternoon from 2-3ft across the South West to possibly 4-6ft by sundown. This kick will primarily be the long period forerunners generated by a particularly intense small scale low embedded within the main system, accompanied by a gusty south/southwesterly breeze from daybreak. Conditions are likely to be a write off right along the South West and Perth coasts with fresh/strong winds really impacting the quality of the surf. Even the most protected spots will struggle to find shelter.
Sunday will see the bulk of the ground swell fill in with surf building strongly to the 6-8ft+ range in the afternoon across the South West. As discussed in previous forecast notes, the strong southwesterly breezes offshore throughout Saturday night will add an element of wind swell into the mix. Meanwhile, Perth and Mandurah are likely to pick up 2ft underlying ground swell, with 2-3ft of short range rubbish in the mix.
Models have actually improved in terms of wind for Sunday, but I'm not going to go out and say that it will be good. Models have merely eased back on wind speeds for Sunday, with an ever so brief window for Perth.
First thing in the morning, Perth and Mandurah have the potential to be under a light/variable-southwesterly breeze, before that south/southwesterly sets back in again ahead of the next front. Unfortunately, the South West won't have such luck, and southwesterly breezes are looking to dominate from the get go, tending due westerly in the afternoon.
Now even though models have improved the wind situation slightly, I wouldn't get excited as there will be a lot of residual chop, scarring and short range wind swell rubbish to contend with. There just isn't enough time for the ocean to settle.
Next week (August 10th onward):
Monday and Tuesday are likely to see an easing trend off the back of the weekends large swell event. Surf sizes should ease from about 6-8ft across the South West on Monday with a subtle pulse keeping 6ft+ surf throughout the afternoon. The swell should drop slowly throughout Tuesday from the 6ft range. Perth should offer 2ft waves on Monday and Tuesday morning.
A high pressure ridge will begin to build over WA on Monday, however compared to this week's ridge, it will be situated much further north. As a result, the South West sitting under an easing southwesterly flow throughout Monday, before becoming light/variable-southeasterly for much of Tuesday.
Perth is looking to be under a light south/southwesterly breeze first thing on Monday, improving progressively throughout the day to light offshore by the afternoon. Tuesday is looking like a day of particularly light/favourable winds for the metro beaches, but the swell will have abated significantly by this stage.
The next swell event is looking to build throughout Wednesday afternoon by a modestly size front moving east of Heard Island, working in conjunction with a low that has the potential to develop off the coast of Cape Naturaliste. Naturally, these smaller scale systems are susceptible to change this far out so we will have a look at it in more detail on Friday, but at this stage, a 6ft ground swell is not out of the question.