Workable week, larger swells likely next week
Western Australia Surf Forecast by Craig Brokensha (issued Monday 29th June)
Best Days: Early most mornings across the South West, probably best Tuesday morning
Recap
Well, what an incredible weekend of waves! A secondary (and personally the one I liked the most) pulse of large SW groundswell peaked Saturday across the state with large 12-15ft surf across exposed breaks in the South West (much larger at offshore reefs) while Mandurah continued at 3-5ft, and Perth 3-4ft+. Conditions were great all day with offshore winds.
Sunday was still solid but on the ease, with dropping surf from 10-12ft in the South West and 3-4ft around Mandurah, 3ft or so around Perth. Winds were great again all day with plenty of more than content surfers at the end of an epic weekend of waves.
This morning the surf was still great but back to the more chilled 6ft range in the South West and 2-3ft in Perth.
This week and weekend (Jun 30 – Jul 5)
This week unfortunately is nothing on what we've just seen across the state.
Tomorrow is probably the pick with a reinforcing W/SW groundswell due to peak under favourable winds. This swell was generated by a pre-frontal fetch of W/NW gales over the weekend, with the system now passing under our South Coast, out of our swell window.
This should keep 4-6ft sets hitting Margs into tomorrow morning, with 2ft sets in Perth, with it not really making much of an impact on the North West.
Conditions will be best early with an E/NE breeze, tending more N/NW into the afternoon.
Wednesday will be smaller and with similar E/NE tending N/NW winds but without much strength.
Into the afternoon across the South West we should see a new SW groundswell filling in, with a similar sized pulse due for Thursday.
These two swells are being generated by a frontal system currently east of Heard Island with a fetch of W'ly gales due to be followed by a secondary fetch of W/SW gales closer to us tomorrow.
Margs should build later Wednesday to 5-6ft, with similar waves through most of Thursday before easing Friday. Perth won't see the swell until Thursday with inconsistent 2ft sets, and the North West Friday, coming in around the 4ft range.
Winds will unfortunately be onshore in the South West as a surface trough pushes in from the west, bringing strengthening N'ly tending N/NW winds.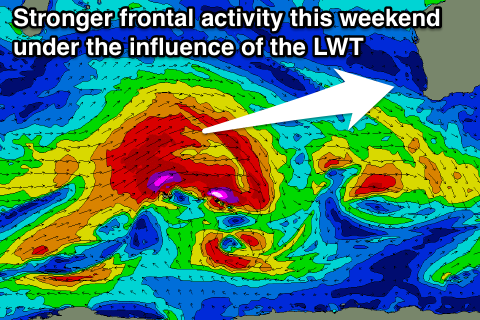 Perth should see early NE winds, swinging more NW through the day, with better offshores in the North West. Come Friday a S'ly change is due across the South West, with S/SE breeze, and then light variable winds in Perth.
Saturday morning will be the best of the weekend around Margs with a new inconsistent SW groundswell and early offshores before an approaching front brings stronger NW-W/NW winds.
The groundswell will be very inconsistent, generated by an intense but small and unfavourably tracking polar low, pushing south-east towards the polar shelf from north of Heard Island.
Exposed breaks in the South West should peak Saturday morning to 4-5ft, easing into the afternoon and further Sunday. Perth isn't due to any size, with 1-1.5ft sets and small waves in the North West Sunday.
Longer term, a strong node (peak) of the Long Wave Trough is forecast to move in through the Indian Ocean from Friday through the weekend, bringing with it some stronger and broader frontal acivity.
The LWT will push quite north in latitude, as will the fronts, producing some larger W/SW groundswell for next week, but we'll have a closer look at this again on Wednesday.