Plenty of swell to come with windows of good conditions
Western Australia Surf Forecast by Craig Brokensha (issued Friday 5th June)
Best Days: Saturday around Gero, Sunday Perth and Gero, Monday everywhere, Tuesday early South West, Friday protected spots
Recap
Large onshore and poor conditions across the South West, with much better and super fun surf from Mandurah north with lighter winds yesterday and better offshores this morning.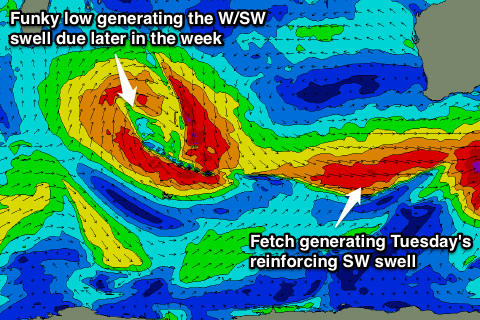 This weekend and next week (Jun 6 - 12)
Our current large W/SW groundswell is due to ease a touch into this afternoon and further into tomorrow morning across all regions and winds will continue to be poor in the South West and onshore from the W.
Perth will also see winds swing onshore though as a cold front pushes in from the west, bringing light to moderate W'ly and increasing W/SW winds. Gero should be clean early with a variable breeze and plenty of size.
Sunday's new SW groundswell has been upgraded since Wednesday, with the broad and vigorous frontal system generating it to our west-southwest becoming more consolidated through today and tomorrow. A broad fetch of W/SW gales are being generated through our swell window, with the system clipping us tomorrow.
The swell from this front should build strongly through Sunday, reaching 10ft+ in the South West through the afternoon, 3ft in Perth and kicking late around Gero to 5-6ft.
A secondary weaker system pushing in on the tail on the main front should then slow the easing trend into Tuesday. Monday should see easing 8-10ft waves in the South West, 2-3ft on Perth and Gero from 5-6ft, with Tuesday stabilising in the 6ft range around the South West, 2ft in Perth and 3-4ft up at Gero.
Winds will improve across Perth Sunday morning and swing offshore with SE winds around Gero, while Margs will remain onshore with a SW'ly.
Monday is still the day to hit the South West with light and variable winds that should swing offshore, but without any strength you'll have to expect a bit of lump and wobble to the swell. Further north E/SE offshores will great great conditions (E/NE around Gero).
Tuesday will then see winds quickly kick up from the E/NE tending NE, so you'll have to be out early in the South West for the best conditions. Lighter N/NE winds are due into the afternoon, only favouring selected breaks.
Into the end of the week one final pulse of W/SW groundswell is due from a funky cut-off low moving through the Indian ocean during the weekend and early next week.
An unfavourable fetch of N/NW winds on its eastern flank and then slightly better but small fetch of W/SW gales on its tail should produce two pulses of W/SW swell.
Size wise we're probably looking at surf in the 4-6ft range from later Thursday and through Friday for Margs, 2ft in Perth and 3ft up at Gero.
Winds will go poor during the week though as the remnants of the system pushes in and across us with average N'ly breezes Wednesday, NW tending S/SW winds Thursday and then strong S/SE winds Friday.
Longer term a strong long-range SW groundswell is on the cards for early the following week, but more on this Monday. Have a great weekend!