Slow outlook with good winds for exposed spots to end the week
Western Australia Surf Forecast by Craig Brokensha (issued Monday 30th March)
Best Days: Margs Tuesday morning through Friday morning, Margs Monday morning
Recap
Average start to the weekend with little to no swell, lifting a touch through the afternoon but with average winds. Sunday was much better as a good new SW groundswell filled in, building from a clean 4-5ft in the South West and 1-1.5ft in Perth. The swell peaked through the afternoon/evening but remained solid this morning across Margs to 4-6ft, with 1-2ft surf in Perth and waves in the 4ft range around Gero with early favourable winds. Conditions deteriorated pretty quickly through the day in the South West though as a S/SW change pushed through.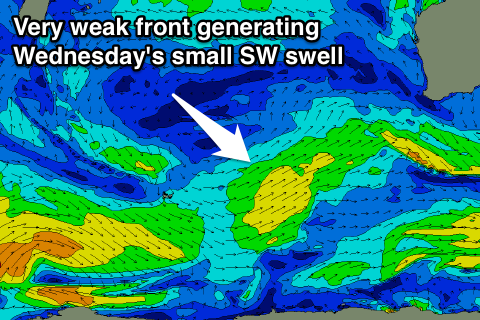 This week (Mar 31 – Apr 3)
A general easing trend in swell is due through this week across all coasts, with a long-period signal showing on the charts tomorrow having no considerable size, while a mid-period SW swell Wednesday will also lack any decent push, generated by a weak front currently pushing towards us.
Margs should ease from 3-5ft tomorrow, steady at 3-4ft Wednesday and then drop from 3-4ft Thursday morning, backing off from a slow weak 3ft Friday. Perth will become tiny with 1-1.5ft waves tomorrow and 1ft+ surf Wednesday, tiny into the end of the week.
Winds are looking dicey up around Gero and from the S/SW tomorrow morning, with better SE winds around Perth and Margs, possible E/SE at periods early before freshening from the S'th from late morning.
Wednesday looks good across most spots with fresh E/SE offshores (SE tending E/SE around Margs) and then Thursday will be good at more exposed breaks with an E/NE offshore. Friday will probably see a touch more north in the wind, favouring swell magnets as the swell becomes smaller.
This weekend onwards (Apr 4 onwards)
There's nothing significant due over the weekend, with a slight kick in small SW groundswell due in the South West to the 3-4ft range through the day but with poor S/SE tending S/SW winds.
A slightly better increase in SW groundswell is due Sunday from a weak but long-lived polar frontal system firing up from the Heard Island region. An increase to 3-5ft is due Sunday afternoon, with Perth pulsing to 1-1.5ft late with the swell peaking Monday morning up at Gero to 2-3ft. Winds will remain average and from the S/SE to S/SW though, becoming cleaner Monday with E/SE offshores.
Longer term there's nothing significant at all for next week as a large blocking high deflects frontal systems away from our swell window, and our far swell window remains void of any significant activity. We may see a break in the pattern into the week starting the 13th, but we'll review this Wednesday.