Good tomorrow, very large and powerful Saturday afternoon
Western Australia Surf Forecast by Craig Brokensha (issued Wednesday 10th September)
Best Days: Thursday morning, Friday morning Gero and Perth, Saturday onwards all coasts
Recap
A very large and stormy swell developed across most coasts yesterday with poor conditions under easing onshore winds. Today the swell was down a touch but conditions still average across all locations besides Gero, where a light local morning offshore developed. A large reinforcing SW groundswell is due this afternoon but conditions are average everywhere with an onshore breeze.
This week and weekend (Sep 11 - 14)
This afternoon's reinforcing SW groundswell will provide good easing waves across the region tomorrow as winds swing offshore from the E/SE across Gero, E/NE in Perth and likely go variable across the northern half of the Leeuwin Coast. Margs should ease from 8-10ft+, 3ft in Perth and 6ft to possibly 8ft up at Gero.
Friday will continue on the downwards trend with favourable E/SE winds around Perth (but more SE around Gero) while Margs will likely see light N/NW winds, increasing through the day.
Of much greater importance is Saturday's very large and powerful long-period W/SW groundswell.
We've got some great satellite readings in now, confirming a fetch of 50-60kt W/SW winds being generated south-east of Madagascar and north of the Heard Island region (two images to the right), setting in motion a very large 54-60ft of open ocean swell.
The extremely strong core wind speeds will result in a very large long-period W/SW groundswell, arriving later Friday in the 25s range. These fore-runners won't have much size attached to them, with the bulk of the swell falling in the 17-18s range, peaking from midday Saturday onwards.
The frontal progression is still moving towards us though, with a fetch of severe-gale W/SW winds continuing through until tomorrow morning before the system breaks down to our south-west.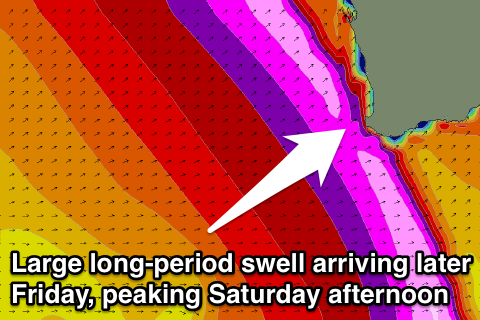 This swell will be very large and likely come in a similar size to the one we saw on August 9th, with Margs coming in at 12-15ft with 20ft+ sets at exposed reefs and bommies during the afternoon, Perth should build to 3-5ft with Gero reaching 8-10ft later in the day.
Winds look good with light offshore E'ly tending variable winds due around Margs, E/SE tending S/SW winds in Perth while Gero will see less favourable SE tending S/SW winds.
The swell should drop back through Sunday steadily from 8-10ft in the South West, 3-4ft in Perth and 8ft in Gero as winds go a little funky and more southerly across most regions.
Next week onwards (Sep 15 onwards)
A couple of secondary large W/SW groundswells are due through next week as a strong node of the Long Wave Trough remains slow moving through the Southern Indian Ocean. This will direct another two vigorous polar fronts towards us, the second being the strongest with wind speeds reaching the storm-force range.
The first swell should arrive later Sunday and easing Monday, with the secondary large pulse due later Monday before easing Tuesday.
Winds look to continue from the southern quadrant (SE each morning) but we'll review this timing and sizes of these swells as well as local winds on Friday.