Small windows over weekend, large swell Tues/Wed with improving conditions
Western Australia Surf Forecast by Craig Brokensha (issued Friday 11th July)
Best Days: Saturday everywhere, but early around Margs, Gero Sunday, protected locations later Tuesday, Wedesday, Thursday
Recap
Wave heights continued to ease into yesterday with offshore winds around Perth and Gero, while Margs saw unfavourable N'ly winds, creating terrible conditions.
Today has started off slow but a new strong SW groundswell has since built in the South West with easy 6ft sets in semi-protected breaks as light variable winds created clean/glassy conditions. The swell should fill in during the day further north, but not reach Gero until later in the day, reaching 2ft to nearly 3ft and 4-5ft respectively as winds tending SE.
This weekend onwards (Jul 12 onwards)
Early Saturday will be the only chance for a decent wave in the South West as E/NE winds at dawn will swing more N'ly through the morning and and persist into the afternoon. Wave heights should ease from 6ft or so at exposed breaks, while Perth should drop from 2ft+ with larger easing 3-5ft waves around Gero. Winds will be better further north around these locations and remain offshore all morning.
Sunday will be poor around Margs with a small swell and N'ly tending N/NW winds, while further north Perth should see an early N/NE'ly before the onshore kicks in, and Gero looks best with morning E/NE winds.
Give Monday a miss as all locations are expected to be poor with the crossing of a cold front across the state along with the arrival of an initial large W/SW groundswell.
This first W/SW groundswell will be the precursor to a much larger event through Tuesday and Wednesday, generated as a series of vigorous polar fronts fire up under the influence of a node of the Long Wave Trough pushing through the Southern Indian Ocean.
This will take place through today and the weekend, with an initial mid-latitude system setting up an active sea state for a couple of broad and strong polar fronts to push up and over the top of.
The initial mid-latitude system will generate Monday's swell, but with secondary fetches of gale to severe-gale W/SW winds being projected up towards us, a couple of large groundswell pulses will result, arriving through Tuesday from the W/SW, peaking during the day and then easing slowly from the SW into Wednesday.
Size wise we should see 12-15ft surf developing into Tuesday afternoon in the South West with 3-4ft+ waves in Perth and 6-8ft+ sets around Gero. Winds will be average though but improving with a fresh but easing SW tending S/SW breeze.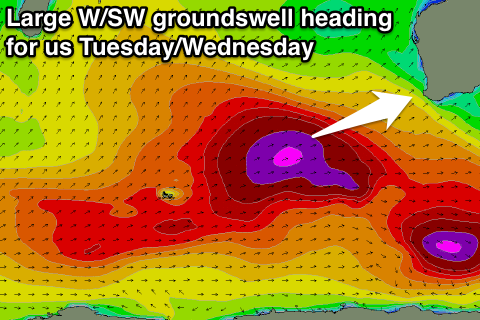 Wednesday though is looking much better as winds swing offshore around Perth and Gero from the E/SE with a large easing swell from 3-4ft and 6-8ft+ respectively. Margs should be glassy but probably a little lumpy with light morning SE winds before tending S/SW and an easing swell from 10-12ft+.
Thursday will likely be a lot cleaner in the South West with E/NE winds and a further drop in swell from 6ft to possibly 8ft early.
Longer term there's nothing too major on the cards at all, so try and work around the weekend's windows of waves and the swell due next week. Have a good one!