Stormy through Tuesday, clean Wednesday, possibly pumping Friday
Western Australia Surf Forecast by Craig Brokensha (issued Friday 4th July)
Best Days: Later Tuesday in protected spots, Wednesday, Friday
Recap
Yesterday was excellent across most of the state with a large easing W/SW groundswell and improving conditions as winds tended offshore and remained so into the evening.
Today is quite the opposite with a much smaller swell and winds tending onshore, with Gero performing the best.
This weekend and next week (Jul 5 onwards)
We're up for a terrible weekend of surf as a vigorous cold front makes it's way towards us and pushes through Sunday.
This front was linked to a vigorous system that pushed through the Southern Indian Ocean during the week, producing a large and powerful W/SW groundswell for Sunday. Protected locations aren't looking too flash with winds only expected to swing from a strong NW'ly early Sunday around to only the W/SW into the afternoon.
As discussed in previous updates, the coming episode of large stormy surf is linked to a strong node of the Long Wave Trough moving in from the west.
This effectively steers and strengthens polar fronts up towards and just to the west of where the LWT is positioned.
We'll see the LWT move right over us during Sunday and with this, a vigorous and broad polar front will be projected up from the Heard Island region and slammed into us, generating a large and powerful SW groundswell.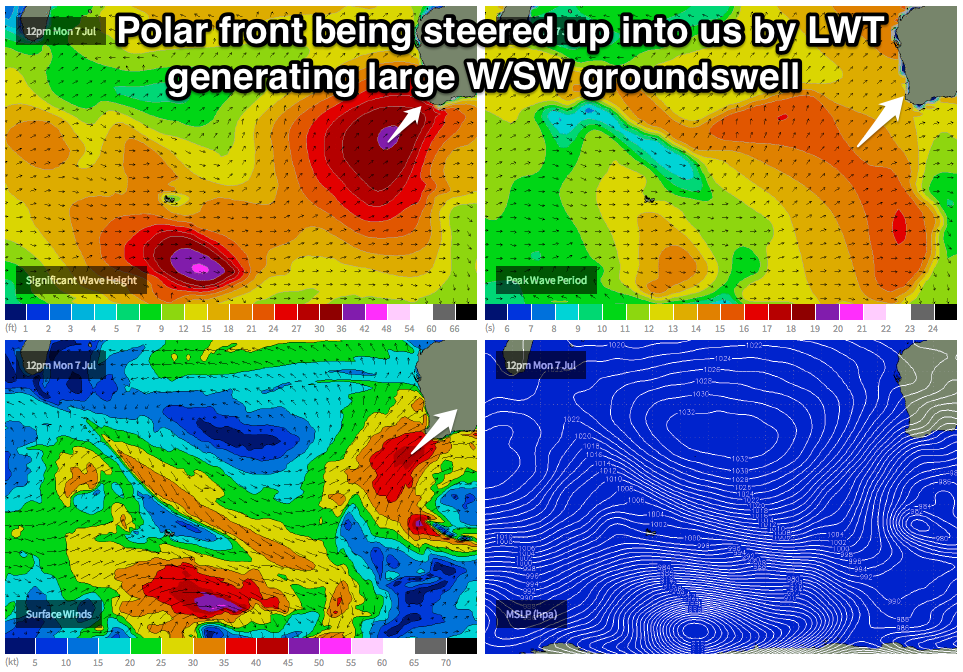 This swell should build later Monday but peak Tuesday in the 15ft+ range across the South West, 3-4ft in Perth and 8ft+ range around Gero.
Winds will unfortunately be strong from the SW, but a swing to the S/SW is due into the afternoon, favouring protected bays and points.
Wednesday is looking much better though as the LWT moves off to the east through early next week, taking the frontal activity with it, resulting in a high pressure system moving in.
This should swing winds variable in the South West Wednesday morning and light offshore from the E further north. The swell will be large and there should be plenty of options on offer across the state.
Come Thursday a weak front will bring with it weak onshore winds, but behind this another large SW groundswell is on the cards for Friday.
This should be generated by another vigorous polar front forming just east of where the system responsible for Tuesday's swell will form, but because the LWT will be over towards Vicco, the storm will focus up to here, resulting in us seeing much better winds as the SW groundswell from the front fills in.
We'll go over this in more detail on Monday though. Have a great weekend!