Slowly easing surf with light morning winds (besides Friday)
Victorian Surf Forecast by Craig Brokensha (issued Wednesday 11th January)
Best Days: Today ahead of sea breezes, tomorrow morning, Saturday morning exposed beaches, Monday morning selected spots, Tuesday morning exposed beaches
Features of the Forecast (tl;dr)
Slowly easing W/SW-SW swell with variable (light SW Surf Coast, variable E/SE to the east) tending S/SE winds tomorrow
Moderate SE winds, strengthening through the day Fri
Smaller Sat with E/NE-NE tending SE winds
Strong S/SW tending S winds Sun
Moderate sized mid-period SW swell Mon with E/NE-NE tending S/SE winds
Smaller Tue with fresh NE tending N/NE winds
Recap
Improving surf through the day across all locations yesterday with a weaker offshore wind and building swell to 3ft across the Surf Coast and 4-5ft to the east. This morning the swell is starting to ease and winds have swung around to the E, creating cleaner, lumpy surf to 4ft on the exposed beaches. The Surf Coast is average and 2-3ft.
Winds should ease and tend more E/NE-NE through the morning before sea breezes start to develop early/mid afternoon, well worth making the most of.
This week and next (Jan 12 - 20)
Looking at the coming days of surf and we'll see the swell size dropping slowly through tomorrow and Friday before bottoming out on Saturday.
The current mid-period W/SW swell will ease, slowed by some smaller, reinforcing SW energy tomorrow, generated by weak fetches of W winds under the Bight earlier this week.
The Surf Coast looks to ease from 2ft+ tomorrow morning with 4ft sets persisting to the east, smaller Friday with fading 1-2ft sets and 3-4ft waves respectively.
Local winds will be variable tomorrow morning, light SW on the Surf Coast and variable E/SE to the east before freshening from the S-S/SE through the afternoon.
Friday looks less than ideal with a moderate SE tending strong S/SE breeze due to create average conditions across most locations.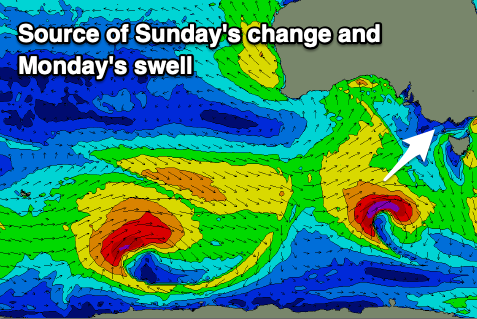 Saturday will improve across the exposed beaches with a light E/NE-NE morning breeze but small, leftover 2-3ft wave. The Surf Coast will become tiny.
Looking at Sunday and we'll see a trough bringing a strong S/SW change before dawn, writing off the surf and beach for the day, though winds will quickly swing E and then E/NE-NE through Monday morning.
Some fresh mid-period W/SW swell should be in the water, generated by the earlier stages of the trough, that being a mid-latitude front passing under Western Australia Friday, dipping south-east while strengthening on Saturday.
The European model ECMWF has this being stronger than GFS, so we'll have to confirm the size on Friday but we're looking at 3ft waves on the Surf Coast Monday and 4-5ft sets to the east as conditions slowly improve.
Tuesday looks cleaner and more organised with a fresher NE tending N/NE breeze but smaller, easing surf from 2ft on the Surf Coast and 3ft to occasionally 4ft to the east.
Longer term winds look to deteriorate with another trough/strengthening low mid-late week, bringing swell but poor conditions. More on this Friday.