Easing surf all weekend with favourable winds
Victorian Surf Forecast by Craig Brokensha (issued Friday 2nd December)
Best Days: Exposed beaches tomorrow morning and Sunday for the keen (inconsistent), selected spots next Thursday, exposed beaches next Saturday
Features of the Forecast (tl;dr)
Easing swell through tomorrow, further Sun
Light N/NE tending E/SE winds tomorrow, locally offshore Sun (N/NW Surf Coast, N/NE to the east)
Small, mid-period S/SW swell arriving on dark Sun, peaking overnight, easing Mon
Gusty W/NW tending strong SW winds mid-morning Mon
Gusty S/SW winds Tue
Moderate SW winds Wed, possibly W/NW early
Late increase in moderate sized + SW groundswell Wed, peaking Thu with moderate S winds
Recap
There was a slight drop in swell energy into yesterday morning, following Wednesday's large SW groundswell, but our new, larger S/SW groundswell pushed in through the day, pulsing to 6ft to occasionally 8ft on the Surf Coast magnets into the afternoon and evening. Conditions were bumpy and not ideal but still surfable with the strength of the swell.
This morning the swell has started to back off but the Surf Coast is still seeing 4-5ft sets with 6ft bombs east of Melbourne. Winds are lighter and while conditions aren't perfect, they're still decent.
This weekend and next week (Dec 3 - 9)
We're now on the backside of the all the strong storm and swell activity seen through this week, with a steady drop in size due through today, with it continuing further through tomorrow.
The Surf Coast will be half the size tomorrow morning and easing back from 2ft to occasionally 3ft on the magnets, with easing 4ft sets on the Mornington Peninsula. Get in early for the most size but also keep in mind the big morning tides. The afternoon will be smaller.
Winds will be best for the beaches and N/NE in the morning (N/NW at dawn Surf Coast), with sea breezes kicking in through the afternoon.
Sunday looks nice and clean across both regions with moderate local offshore winds (N/NW Surf Coast and N/NE to the east), holding into the evening and becoming variable near dark.
Swell wise, the surf looks smaller and only to 1-2ft on the Surf Coast and 2ft to possibly 3ft to the east, with our small pulse of new mid-period SW swell now expected to arrive very late (overnight), come more from the south in direction and be smaller.
The reason is due to the weak fetch of W/SW winds linked to this swell forming later in our swell window and being smaller in scope.
We'll only see a late forming fetch of W/SW winds, to the south-southwest of Tasmania tomorrow morning. This will result in a delay in arrival, with it now likely to arrive overnight and ease through Monday.
Therefore expect small surf most of, if not all of Sunday with a wait for the sets. Monday morning will only be small regardless with easing sets from 1-2ft on the Surf Coast and 3ft max to the east.
Winds will unfortunately deteriorate quickly as a trough moving slowly towards us on the weekend, pushes through just after dawn, with gusty W/NW winds due to swing strong SW by mid-morning.
This trough and change will be followed by a small high moving in from the west, bringing persistent S/SW winds on Tuesday, shifting more SW on Wednesday as a secondary approaches, then swinging to the S/SE-SE later in the week as a stronger high pushes in behind the trough.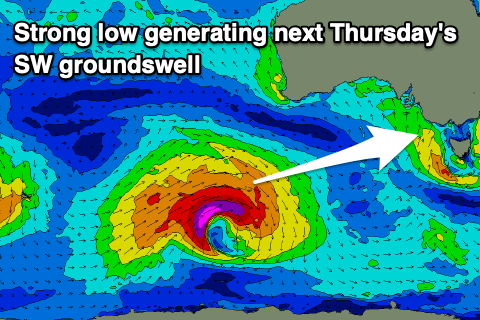 Swell wise a strong polar low developing to the south-west of Western Australia through Sunday should generate a moderate sized SW groundswell for Thursday, with it due to arrive late Wednesday.
The swell will have a bit of size and energy thanks to a fetch of severe-gale winds, though weakening in our medium-range swell window. A peak is due on Thursday to 3-5ft across the Surf Coast (4-5ft magnets) and 6ft+ to the east but with S'ly winds.
As the high moves east Friday, winds should tend SE but Saturday and Sunday will be the pick with strengthening N/NE winds though smaller, easing surf from later in the week. We'll have another look at this on Monday. Have a great weekend!