A couple of options on the beaches
Victorian Surf Forecast by Craig Brokensha (issued Monday 4th July)
Best Days: Selected spots east of Melbourne tomorrow morning, Wednesday, Sunday exposed beaches
Features of the Forecast (tl;dr)
Small-moderate sized S/SW groundswell for this afternoon with S/SE winds
Easing S/SW swell tomorrow with fresh SE winds (lighter E/SE in the AM across Phillip Island)
Small-moderate sized S/SW swell Wed AM with local offshore tending variable winds
Small surf Thu with W/NW tending SW winds
Weak small windswell Fri with gusty S/SW tending S/SE winds
Inconsistent mid-period SW swell Sat with SE winds, a touch better swell Sun with NE winds
Recap
Good waves across the Surf Coast on Saturday morning with a window of W'ly winds and good 3-4ft sets following Friday's pulse of S/SW swells. Conditions became bumpier through the day but were still fun.
Yesterday there was a bit less size across all regions but with fresher, average S/SE winds.
Today, our fresh pulse of strong S/SW groundswell isn't showing well at all on the Cape Sorell wave buoys or Point Nepean resulting in average, smaller 2ft waves on the Surf Coast and 3-4ft to the east. Conditions are wind affected and average again though with a moderate to fresh S/SE breeze.
** Update - 15-16s swell energy is now showing on the buoys.
This week and weekend (Jul 5 - 10)
Looking at the coming week and Wednesday is the pick but swell wise, our reinforcing pulse of mid-period S/SW swell looks to be downgraded a little.
Any increase in swell seen through today will ease into tomorrow with the Surf Coast likely to drop from 2-3ft with 4ft sets to the east. Winds will remain poor for the Surf Coast and fresh out of the SE, with a few options to the east opening up with lighter E/SE breezes due across Phillip Island.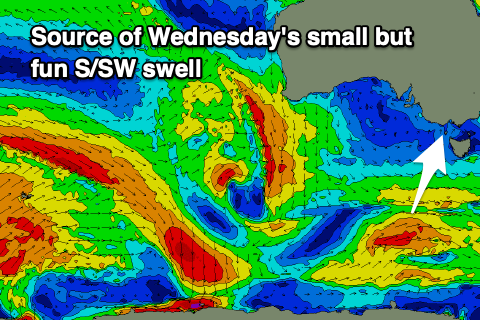 Much better offshore N/NW winds are due on the Surf Coast Wednesday with N/NE winds to the east, variable into the afternoon. Size wise a flurry of weak and unconsolidated polar frontal activity should generate 2ft to occasionally 3ft waves on the Surf Coast with 4ft sets to the east, easing through the day.
Come Thursday a trough approaching from the west will bring W/NW tending SW winds but with no new swell of size or power. 1-2ft leftovers are expected on the Surf Coast, bumpy and average to the east.
A weak localised windswell will offer no size on Friday and fresh to strong S/SW tending S/SE winds will create poor conditions.
A low forming in the trough line to our south-east will keep poor SE winds blowing across the state on Saturday along with the arrival of a small, inconsistent mid-period SW swell. This swell and a secondary pulse for Sunday are being generated by a broad but distant flurry of polar frontal activity south-west of Western Australia.
No major strength is expected in this progression and this will result in infrequent 2ft waves on the Surf Coast Saturday, 3-4ft to the east with Sunday seeing a touch more size with 2ft to possibly 3ft sets to the west and 3-5ft waves to the east.
Winds should swing back offshore from the NE on Sunday, favouring the beaches and holding into the afternoon.
Longer term the outlook remains troughy and poor with unseasonal S'ly winds and weak swells. Therefore make the most of the window of cleaner conditions this period.