Fun weekend of surf
Victorian Surf Forecast by Craig Brokensha (issued Friday 24th June)
Best Days: Later today Surf Coast, tomorow, Sunday morning Surf Coast, keen surfers early Monday Surf Coast, beaches Tuesday
Features of the Forecast (tl;dr)
Building mix of moderate sized, mid-period and W/SW groundswell later today, peaking tomorrow with a reinforcing pulse for Sun
Fresh to strong N/NW-NW tomorrow, fresh W/NW tending W/SW early PM Sun
Easing mix of swells Mon with mod-fresh SW winds (likely W'ly early on the Surf Coast)
Easing small swell with fresh N-N/NE winds Tue
Small, weak W/SW swell building Wed PM with strong N winds
Average, localised S/SW swell building later Thu, peaking Fri with S/SW winds
Recap
Small to tiny waves across the Surf Coast yesterday, decent to the east most of the day with 2-3ft of swell.
Today conditions are a little bumpier to the east but still surfable and to 3ft, while the Surf Coast is a slow, clean 1-2ft. We should see some new, mid-period and long-range groundswell building later but the weekend provides more consistency and reliable surf.
This weekend and next week (Jun 25 - Jul 1)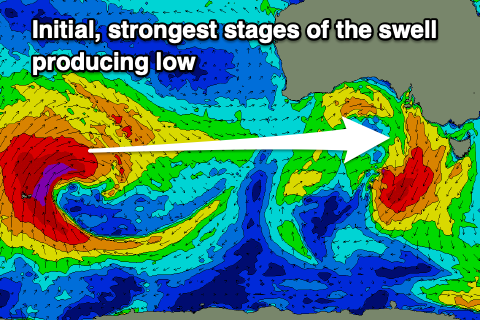 Looking at the current synoptic setup and we've got a pair of mid-latitude fronts pushing in from the west, generating fetches of strong to near gale-force W/SW winds in our western swell window.
These fronts are generating moderate sized pulses of mid-period W/SW swell that should fill in tomorrow and Sunday and will be the most dominant over the weekend. There'll be an inconsistent, long-period signal from later today through tomorrow and Sunday morning, generated by the earlier stages of the progression. That being a strong slow moving low in the southern Indian Ocean earlier this week.
Size wise we should see fairly consistent surf in the 4ft range across the Surf Coast, 6ft+ to the east, while the long-range energy may provide the rare bigger set on the Surf Coast magnets.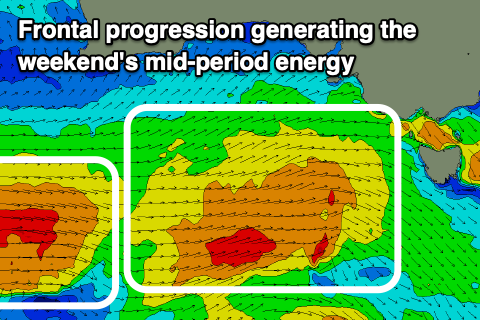 Conditions will be great for the Surf Coast tomorrow with a fresh to strong NW breeze, shifting N/NW at times. Sunday will be best through the morning with a fresh W/NW offshore ahead of a W/SW change early afternoon with a shallow change.
The forecast weak low moving through Sunday now isn't expected, with no significant increase in localised swell into the afternoon, with easing surf from 3ft to possibly 4ft on the Surf Coast Monday morning, 4-6ft to the east. Conditions won't be as clean and lined up though with SW winds out to sea, possibly tipping W'ly early across the Surf Coast.
Tuesday will become cleaner on the beaches as winds swing back to the N-N/NE ahead of an approaching frontal system but size wise, the Surf Coast will be fading from 2ft with 3-4ft sets to the east.
Looking at the outlook for later next week and a weak frontal system moving in from the west is due to generate some weak W/SW swell for Wednesday afternoon and Thursday morning, but beyond this we're likely to see a strengthening polar front generating a poor, localised increase in stormy swell Friday. The models diverge on the strength and size so we'll review this Monday. Have a great weekend!