Make the most of today
Victorian Surf Forecast by Craig Brokensha (issued Monday 10th January)
Best Days: Today, tomorrow morning beaches to the east
Features of the Forecast (tl;dr)
Small, easing mid-period SW swell tomorrow with increasing S/SE winds (tending E/NE for a period tomorrow AM)
Poor, building SE windswell Wed, holding Thu, easing Fri with strong E/SE tending SE winds
Small, weak SW swell building Fri, fading Sat with S/SE winds
Recap
Poor conditions Saturday with a low point in swell but yesterday offered better conditions with lighter onshore winds and a small pulse of new SW swell. The Surf Coast was a bumpy/lumpy 2ft with 3-4ft sets to the east.
Our better pulse of mid-period SW swell for later yesterday and this morning has come in on forecast and been met with more variable breezes and glassy conditions with great 3-5ft waves to the east, 3ft+ on the Surf Coast.
This week and weekend (Jan 11 - 16)
The windows of lighter winds the last two mornings have offered some fun options in an otherwise average forecast period and it'll be worth making the most of today as conditions will deteriorate from tomorrow.
The current swell should ease through this afternoon, down further tomorrow as wind start to deteriorate owing to a high pressure system moving in from the south-west is squeezed by a deepening surface trough/low across South Australia.
It looks like we'll see E/NE winds east of Melbourne for a period tomorrow morning before shifting to the S/SE and freshening from late morning or so. Pre-dawn winds may be S/SE but they'll improve for a period. Size wise the Surf Coast looks to ease from 2ft with 3-4ft sets to the east.
We'll then see the squeezing pressure gradient between the high and surface low dominating our winds and swell window for the rest of the week.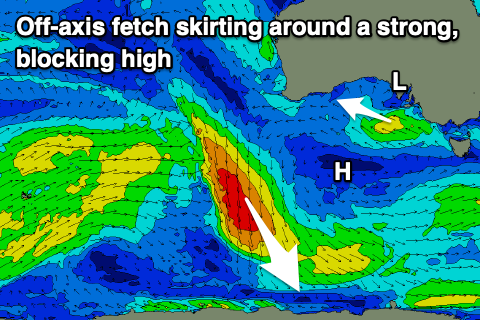 Strong E/SE tending SE winds are due through Wednesday along with moderate levels of building SE windswell across the Surf Coast, similar Thursday. Size wise sloppy 3ft+ waves are due west of Melbourne, smaller to the east.
As we move into the end of the week and weekend, the models diverge regarding the position of the surface low and the local winds. EC has the low further north resulting in persistent E/SE tending S/SE winds on Friday, S/SE Saturday while GFS has the low further south bringing more favourable NE winds on Friday, variable Saturday morning.
Swell wise there's nothing significant on the cards with a weak front skirting around the western side of the high forecast to generate an off-axis (perpendicular to our swell window and not ideal) fetch of NW winds aimed mostly towards the pole.
A small, mid-period swell is expected from this source Friday afternoon, kicking to a small 1-2ft max on the Surf Coast and 2ft to maybe 3ft to the east, easing from 1-1.5ft and 2ft Saturday.
Longer term there's still nothing of significance on the cards for our region as La Niña really makes its presence felt. We may see another stormy SE windswell developing late next week/weekend but otherwise it's fairly dire so make the most of today.