Great tomorrow, workable early-mid next week
Victorian Surf Forecast by Craig Brokensha (issued Friday 5th November)
Best Days: Saturday, Tuesday, Wednesday morning Surf Coast
Features of the Forecast (tl;dr)
Fun, mid-period W/SW swell tomorrow with mod-fresh N/NE winds, tending NW late afternoon ahead of an evening change
Easing swell Sun with fresh, but abating S/SW tending S winds
New, mid-period W/SW swell Mon with light-mod S/SW-SW winds (possibly light W'ly early on the Surf Coast)
Better W/SW swell Tue with light W/NW tending light S/SE winds
Easing W/SW swell with mod-fresh W/NW tending strong SW winds
Smaller Thu and Fri with S winds
Recap
A lay day yesterday with a low point in swell and a moderate onshore wind that freshened through the day. This morning conditions are still poor across the Surf Coast with a tiny 1-1.5ft of swell and cross-onshore wind from the east, a little better on the Mornington Peninsula with bumpy 3ft surf.
We should see the swell slowly increasing in size and period through the afternoon but with average SE winds.
This weekend and next week (Nov 6 - 12)
Tomorrow is the pick of the forecast period, with a peak in mid-period W/SW swell and favourable winds that look to remain so for most of the day.
This swell was generated by the strongest front in a progression of relatively weak systems projecting up and under Western Australia earlier this week. A burst of W/NW-W gales were generated through our western swell window, on top an active sea state, with the swell building further on this afternoon's increase in weaker, smaller mid-period swell.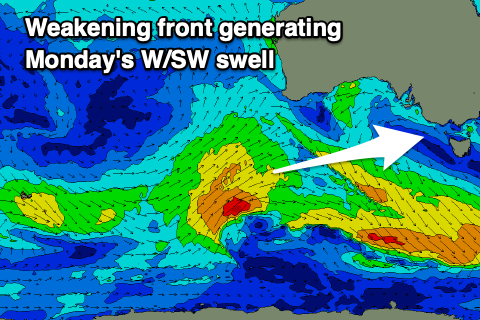 The Surf Coast should see surf around 3ft on the exposed breaks, 4-5ft+ on the Mornington Peninsula. Winds will favour the beaches and be moderate to fresh from the N/NE all morning, shifting NW late afternoon ahead of a stronger onshore change into the evening.
Therefore get in before mid-afternoon east of Melbourne tomorrow.
The change in winds will be linked to a trough moving through, with fresh S/SW winds left into Sunday, abating through the day and with a slight drop in size from Saturday.
Moving into Monday, a new pulse of mid-period W/SW swell is expected across the state, followed by a secondary increase Tuesday and third Thursday.
These swells will be generated by relatively weak but persistent fronts firing up on the tail of the frontal progression linked to tomorrow's swell, with fetches of strong to near gale-force W/SW winds projected through our western and then south-western swell windows.
The only issue is that this continued activity looks to prevent a stabilising high moving in, bringing less than ideal (though workable) winds and conditions. Monday's swell looks to be around 3ft on the Surf Coast and 4-5ft+ to the east but with lingering SW-S/SW winds. The Surf Coast may see lighter W'ly winds early but conditions will still be lumpy.
Tuesday's pulse looks better in size and to 3ft+ on the Surf Coast and 5-6ft to the east and with a window of light W/NW winds west of Melbourne (SW to the east) ahead of sea breezes. Winds are due to be light most of the day so most locations should offer a fun wave through the day.
Wednesday may offer another window of early W/NW winds but an approaching trough will bring a change mid-late morning, strengthening from the SW and then lingering from the S'th into Thursday and Friday.
Longer term a strong, blocking high will setup south-west of Western Australia bringing a run of poor winds from the south-eastern quadrant with S/SW swell energy spreading up from the south-west of Tasmania. With this poor outlook, make the most of tomorrow and the windows early next week.
Have a great weekend!