Fun Wednesday, but the split jet stream persists
Victorian Surf Forecast by Craig Brokensha (issued Monday 14th June)
Best Days: Late tomorrow, Wednesday, Thursday for the keen on the Surf Coast, Sunday Surf Coast and beaches into the afternoon, Monday exposed beaches
Features of the Forecast (tl;dr)
Inconsistent W/SW groundswell for later tomorrow with mod-fresh N/NE winds, peaking Wed with fresh N/NE winds, easing Thu with NW winds
Mod-large, inconsistent W/SW groundswell filling in Fri with strengthening SW tending S/SW winds, easing Sat with fresh S/SW winds, cleaner Sun with NW tending variable winds
Inconsistent W/SW groundswell for Sun PM, easing Mon AM with N tending variable winds
Recap
Average waves for the keen on the weekend with a lumpy 2ft of easing swell Saturday morning on the Surf Coast, poor elsewhere, cleaner yesterday but back to 1-2ft.
This morning is tiny and best on the beaches with inconsistent 2ft sets for the patient west of Melbourne.
This week and weekend (Jun 15 - 20)
The surf will remain minimal in size tomorrow but nice and clean for the beaches with a moderate to fresh N/NE breeze. Very late in the day the fore-runners of a new, inconsistent W/SW groundswell is expected to show, ahead of a peak Wednesday.
With the all day offshore and late pulse of swell, the late will be worth a look on the exposed beaches with sets possibly pushing to 3ft (1-2ft for most of the day before that).
The swell was generated through late last week and the weekend by a distant but decent frontal progression firing up across and east of the Heard Island region.
There'll be long waits between sets but we should see 2-3ft waves on the Surf Coast magnets, 4-5ft to the east in the morning, easing a touch into the afternoon.
Winds will be offshore all day for the beaches and fresh from the N/NE, holding into the afternoon as a slow moving mid-latitude front pushes in from the Bight.
This front will shift winds NW into Thursday as the inconsistent groundswell eases (2ft+ Surf Coast, 4ft to the east), with Friday unfortunately seeing strengthening SW tending S/SW winds as the front pushes through.
This will spoil a new, moderate-large, inconsistent W/SW groundswell discussed last week. The swell will originate from a strong, deep polar low that's currently around the Heard Island region, with a fetch of storm-force W/SW winds due to be projected east, only weakening once south-southwest of WA Wednesday morning.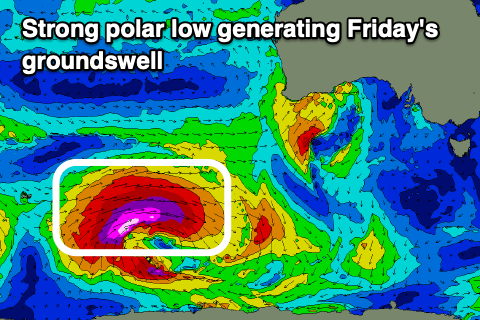 Size wise the Surf Coast should see sets building to an inconsistent 4-5ft+ through the afternoon, 6-8ft on the Mornington Peninsula but with those onshore winds. Unfortunately moderate to fresh S/SW winds will persist into Saturday as the front weakens to a trough but then forms into a Tasman Low, bringing those onshore winds on its western flank.
Sunday should be cleaner with a light NW breeze but leftover swell, mixed in with a new, inconsistent W/SW groundswell. The Surf Coast looks to be around 3ft+ with 4-6ft sets to the east, cleaner on the beaches Monday as it eases.
Longer term the outlook still remains void of any major Southern Ocean frontal activity under the country. Instead we'll continue to see mid-latitude systems (lows/troughs) spawning from Western Australia and the reason for this is a persistent split jet stream. This is similar to last winter, but the reasoning is unsure. I'll have a deeper dig into it.