Monday, 21 September 2020
Average outlook following the days just past
Victoria Forecast by Craig Brokensha (issued Monday 21st September)
Best Days: No great days, Tuesday morning, Wednesday and Thursday morning Surf Coast for the keen
Recap
Good conditions for the beaches and with a strong new S/SW groundswell on Saturday, around the 3ft range on the Surf Coast and 4-6ft to the east, while the swell dropped temporarily into Sunday morning with generally favourable conditions.
Winds shifted to the N/NW into the afternoon as a new pulse of flukey, reinforcing S/SW groundswell filled in. This was generated by an off axis but impressive fetch of NW gales moving on top an active sea state. The swell spread up radially into us, kicking sets to 3ft to occasionally 4ft on the Surf Coast and 5-6ft to the east, easing today from 2-3ft and 4-5ft with a shift in winds to the NW.
This week and weekend (Sep 22 – 27)
The pulse of S/SW groundswell seen into yesterday afternoon and this morning will continue to ease into tomorrow leaving small, slow, leftover 2ft sets on the Surf Coast magnets, 3ft to possibly 4ft to the east.
Winds will strengthen from the N/NW and then shift to the W/NW through the afternoon, favouring protected spots.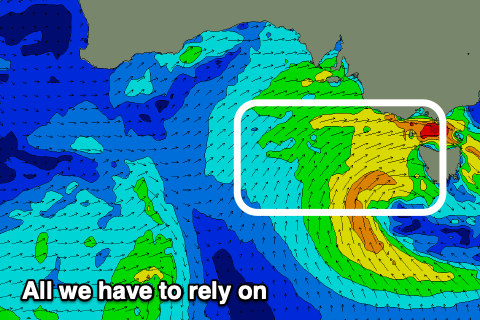 The strengthening breezes will be associated with a broad and strong mid-latitude low moving in from the west, but the swell generating properties of this low still look poor.
It's been be positioned too far north, and the fetch around its northern flank out of our swell window though it'll dip south-east tomorrow afternoon into our swell window, but in a much weaker form.
A weak fetch of W/SW winds will be generated directly west and south-west of us, pushing in proper on Wednesday and this will kick up a weak W/SW swell through Wednesday, fading Thursday.
Size wise it only looks like we'll see 2ft to maybe 3ft sets on the Surf Coast, 4-5ft+ to the east but with fresh W/NW winds, shifting W/SW mid-late afternoon. Thursday looks clean again in protected spots with a persistent NW offshore but the swell will be easing from 2ft+ and 4ft respectively.
Moving into the end of the week, another mid-latitude low is expected to form north-west of us, deepening as a cold shot of polar air is advected from the south.
This looks to be too north and over the state to generate any decent swell, but it'll deliver a decent dump of low level snow to the alpine regions.
As it develops we may see more favourable N'ly winds for the beaches early Friday but with no decent size left from Thursday, and in all likelihood winds will blow from the W/NW shifting SW.
The weekend will be poor as the low move east, bringing strong SW winds on Saturday but no quality swell, just a junky S/SW windswell, easing Sunday with lingering S'ly winds.
Longer term there's nothing of note on the cards, with cleaner conditions developing on the beaches Monday/Tuesday but the windswell from the weekend will be small and easing.
An upper level ridge moving in next week won't be conducive to generating any decent swell either, so all in all the current period isn't too flash.