Mix of westerly swells to end the week
Victoria Forecast by Craig Brokensha (issued Wednesday 1st July)
Best Days: Protected spots late tomorrow for the keen, Friday, Saturday morning, Monday morning Surf Coast, Wednesday
Recap
Tiny waves on the Surf Coast yesterday with slow 2ft sets on the Mornington Peninsula, while today there's been a slight kick in small W/SW swell to 1-1.5ft on the Surf Coast magnets and 3ft on the Mornington Peninsula.
This week and weekend (Jul 2 - 5)
With the tiny stuff now mostly done with, we now look to the tricky and acute pulses of W'ly swell due over the coming days.
While the long-period pulse is the hardest to forecast, we've now got a slight upgrade in the additional mid-period energy due later tomorrow and Friday, putting more confidence on Friday being a fun day of waves in protected spots.
But firstly to the mid-latitude frontal progression that's currently slamming Western Australia, and the best aligned and strongest of these systems is now tracking east into the Bight and is positioned north of our swell window.
Yesterday though it produced a fetch of severe-gale to storm-force W/SW winds in our medium range westerly swell window, producing an inconsistent W'ly groundswell that may be seen on dark tomorrow but should peak Friday.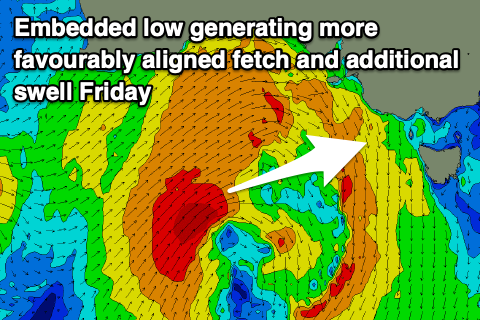 As the low pushes slowly east today, an embedded low positioned more in our swell window is now forecast to generate a fetch of strong to gale-force W/SW winds. This will continue towards us while weakening slightly tomorrow, pushing across Tasmania tomorrow evening.
A more consistent and better mid-period W/SW swell is due off this source for Friday, offering fun waves in between the less consistent long-period westerly sets.
Coming back to tomorrow though and the morning will start small to tiny with 1-1.5ft waves on the Surf Coast, 3ft on the sets across the Mornington Peninsula. Into the afternoon some new westerly energy should start to build, with the Surf Coast possibly reaching 2ft to nearly 3ft by dark, 4-5ft to the east.
Conditions will be clean for protected spots all day with a persistent breeze between north-west and west-northwest.
Friday is the pick with the mix of swells coming in at a fairly consistent 3ft, with 4ft sets at times on the Surf Coast swell magnets, and 6ft+ to the east on the sets. Winds will be again favourable for protected spots and fresh from the W/NW through the morning, shifting W/SW early afternoon ahead of a strong SW change mid-late afternoon.
The long-period energy will fade through Saturday, while there'll be easing levels of mid-period W/SW swell and weaker SW windswell in the mix through Saturday and then Sunday. This will be from the tail of the fetch moving towards us today and tomorrow generating 20-25kt winds through Friday, followed by a secondary weak front Saturday.
The Surf Coast should ease from the 3ft range on Saturday, 4-5ft+ to the east though the secondary front projecting towards us through the day will steer winds back to the W/NW after Friday's change, back to the W/SW mid-afternoon.
Sunday looks smaller and weaker with mostly 2ft+ waves on the Surf Coast (possibly rare 3ft'er) and 3-4ft on the Mornington Peninsula along with average W/SW tending SW winds. There's a chance for an early W'ly on the Surf Coast but with the weak swell it's not worth worrying too much about.
Into next week some new inconsistent W/SW groundswell is due to fill in Monday and persist Tuesday, produced by a broad stretch of frontal activity through the south-east Indian Ocean over the coming days.
It'll be slow but the Surf Coast should see infrequent 2-3ft waves, 4-5ft to the east and a morning W/NW breeze will shift W/SW ahead of a trough and S'ly change overnight that will leave lingering S-S/SE winds on Tuesday. There may be an additional W/SW groundswell in the mix Tuesday from a low forming south of WA on the weekend, but we'll review this and likely northerly winds as the swell eases Wednesday in the next update.