Monday, 1 June 2020
Large windy swell on the way, improving as it eases
Victoria Forecast by Craig Brokensha (issued Monday 1st June)
Best Days: Surf Coast tomorrow, Thursday, Friday Surf Coast
Recap
Inconsistent and smallish westerly swells for the weekend to 2ft+ or so on the Surf Coast swell magnets, bigger to the east though wind affected on Sunday, bumpier and average yesterday.
This morning we've got a continuation of small and slow W'ly swell as a stalling mid-latitude low moves in slowly from the west. This is creating clean conditions on the Surf Coast, though we'll see an onshore change this afternoon as the swell strengthens a little more.
This week and weekend (Jun 2 - 7)
While no major size was seen this morning from a tricky new W'ly swell from the strong mid-latitude frontal progression pushing in from the west, a better pulse of SW swell is due into this afternoon though size wise we're only talking 2-3ft on the Surf Coast and 4-5ft to the east.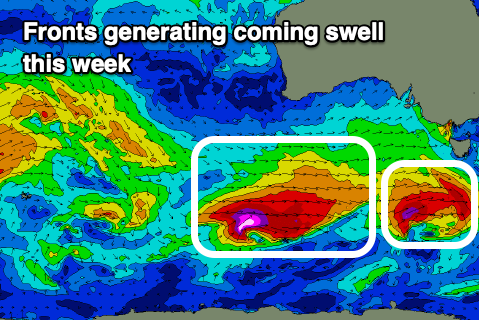 The low moving in from the west will bring some additional local windswell though it doesn't look to be above 3ft on the Surf Coast, 4-5ft+ to the east.
Winds will swing back to the W/NW with an approaching frontal system tomorrow morning favouring the Surf Coast, shifting W'ly into the afternoon.
Now, later in the day but more so Wednesday a new SW groundswell may be seen, generated by the first of two significant frontal systems currently moving through our swell window. This first front is generating a fetch of W/SW gales south-west of Tassie, with the swell due to peak Wednesday morning to 3ft+ on the Surf Coast and 4-6ft on the Mornington Peninsula.
As this swell peaks though, a secondary stronger front that's producing a fetch of severe-gale to storm-force W/SW winds will project up and into us while weakening Wednesday, bringing an onshore change and larger SW groundswell for the afternoon and Thursday morning. There'll also be some sizey windswell in the mix as well with the front pushing up and into us.
Building surf from 4ft or so is expected on the Surf Coast Wednesday morning, reaching 5-6ft into the afternoon, 6ft to the east and reaching 8ft later. Thursday morning should then see the groundswell easing from 4-5ft+ and 6-8ft respectively.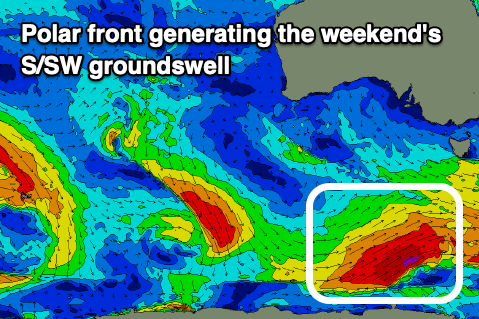 Conditions will be poor though on Wednesday with strong SW tending S/SW winds, improving Thursday with a light to moderate S/SE breeze, tending variable and remaining so into the afternoon. So while not perfect early it'll get better and better as the day progresses.
Friday should become straighter and more lined up with a N/NW tending NW breeze as the swell eases further from the 3ft range on the Surf Coast, 4-5ft to the east.
We've got some new swell expected into the weekend from a deepening and broad but not overly strong polar low forming on Wednesday. As the low develops a pre-frontal fetch of NW gales are expected to produce a small SW swell for later Friday, though likely not above the existing swell.
Better post-frontal gale to severe-gale W/SW winds south-west of Tassie on Thursday should produce a better S/SW groundswell for Saturday, possibly not there at dawn but peaking through the day to 3-4ft on the Surf Coast and 5-6ft on the Mornington Peninsula. Winds are a little unsure as it depends on the timing of a trough moving through but it looks like we'll unfortunately see winds swing onshore around dawn Saturday, remaining so Sunday.
We'll have a closer look at this on Wednesday and Friday though.