Monday, 12 August 2019
Smaller, less consistent swells
Victoria Forecast by Craig Brokensha (issued Monday 12th August)
Best Days: Surf Coast Tuesday morning, Surf Coast late Thursday and early Friday, exposed beaches Saturday, Surf Coast Sunday afternoon
Recap
Workable waves on the Surf Coast Saturday morning for keen surfers with a bit of west in the wind and surf between 3-4ft though bitterly cold. From late morning conditions deteriorated and the rest of the weekend was a stormy mess.
This morning winds have backed off and conditions were a bit better across the Surf Coast but still very average, poor elsewhere.
Today's Forecaster Notes are brought to you by Rip Curl
This week and weekend (Aug 13 - 18)
The surf is expected to clean up into tomorrow morning with a W/NW offshore on the Surf Coast and a mix of weak swells, though holding steady through the day with a new mid-period S/SW swell. The swell is being generated by a weak front that's currently pushing up and across Tassie, with the surf due to hang around 2-3ft on the Surf Coast and the 3-4ft range to the east.
Winds should hold all morning before shifting S/SW-SW around early afternoon, if not going more variable.
Wednesday will see more favourable N/NW winds across all locations but we'll be looking at small fading surf from 2ft max on the sets across the Surf Coast and 3ft to the east on the sets.
We then look to our inconsistent long-range W/SW groundswell for later in the week and there's been a slight downgrade in the expected size and and winds swinging onshore at its peak.
A slow moving and dipping low south-east through our swell window to the south-west of WA has been generating a fetch of strong to gale-force W/SW winds in our swell window.
The secondary intensification to severe-gale force strength winds didn't occur and we're now expected to see a little less size. The swell is due to build later Thursday and reach 2ft+ by dark on the Surf Coast and 4ft on the sets across the Mornington Peninsula, peaking Friday morning to an inconsistent 3ft on the sets across the Surf Coast swell magnets and 4-5ft to the east.
Pre-frontal N/NW winds will create clean conditions all day Thursday, but a trough will move through Friday, with a dawn W/NW'ly expected to shift S/SW mid-late morning (without much strength), S/SE into the late afternoon.
Conditions should clean up rapidly into Saturday with a moderate N/NE offshore along with a secondary, long-range and inconsistent W/SW groundswell to a touch less size.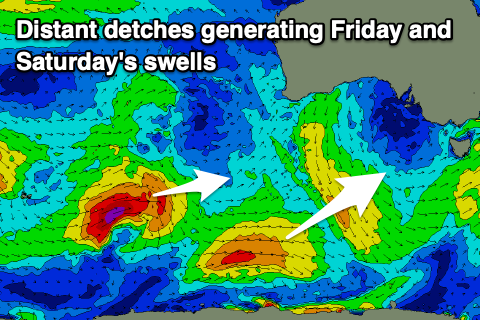 A small and intense but distant low will generate this swell east of Heard Island, with the fetch due to reach severe-gale in strength.
Inconsistent 2-3ft sets should persist Saturday morning on the Surf Coast, with 3-5ft waves to the east, easing through the day under the favourable offshore.
Stronger N tending NW winds are due on Sunday with a mix of building mid-period surf from a pre-frontal W/NW fetch moving in from the south-west of WA. No major size is expected with sets to 3ft on the Surf Coast later in the day and Monday, 4-5ft+ to the east. Monday looks poor as the tail of the frontal progression moves through bringing a strong SW change and additional mid-period SW swell.
Longer term a much more significant but still distant polar storm is forecast to develop by GFS on the weekend, but not ECMWF so we'll have to keep an eye on this through the coming week.