Monday, 20 May 2019
Good quality waves continue, more activity from the weekend
Victoria Forecast by Craig Brokensha (issued Monday 20th May)
Best Days: Surf Coast tomorrow, both coasts Thursday, Surf Coast Friday, Saturday, later Sunday onwards
Recap
Saturday's tricky mix of swells came in above expectations with the tight low that generated a poorly aligned fetch of S/SW tending SW gales briefly through our south-western swell window, generating a good pulse of size through the morning.
The Mornington Peninsula pulsed to a large 6ft+ with 4ft+ waves on the Surf Coast under favourable winds. Yesterday was smaller but great again across both coasts with easing 3ft waves on the Surf Coast, 3-5ft on the Mornington Peninsula.
The first of our S/SW groundswells has filled in overnight, keeping sets up around 3ft on the Surf Coast and 3-4ft on the Mornington Peninsula, but this will ease through the day as winds shift more N/NW.
Today's Forecaster Notes are brought to you by Rip Curl
This week and weekend (May 21 – 26)
This morning the first of two long-period S/SW groundswells filled in, with it expected to ease this afternoon ahead of our second, slightly stronger pulse overnight, easing tomorrow.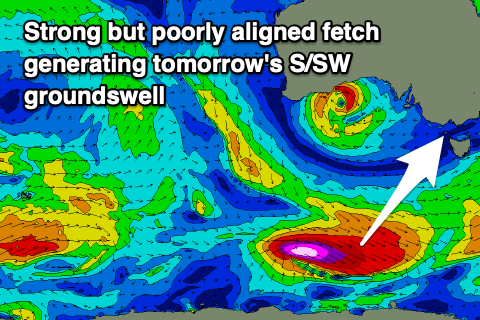 This secondary pulse was generated by a stronger polar fetch of severe-gale to storm-force W/NW winds, not perfectly aimed through our southern swell window. Still, the strength of the winds and southerly direction should help provide a bit of size across our state tomorrow morning.
The Surf Coast should hopefully see 3ft+ sets, with 4-5ft sets on the Mornington Peninsula early, easing through the day and backing off from a smaller 2ft and 3ft+ respectively Wednesday. Conditions tomorrow will be best on the Surf Coast and selected locations to the east with a moderate to fresh N/NW breeze, NW tending light onshore Wednesday as the swell eases.
Thursday will start slow, but a new moderate sized W/SW groundswell is due to build into the afternoon and peak Friday, generated by a slow moving and broad polar front that's currently projecting a fetch of strong to gale-force W/SW winds towards Western Australia.
This front will push further east slowly through our western swell window, today and tomorrow, weakening into Wednesday.
The strength of the fetch wasn't quite as good as expected on Friday, but we should still see a moderate sized W/SW groundswell, building from a mid-period 2ft Thursday morning to 3ft into the afternoon, peaking Friday to 3-4ft on the Surf Coast, with the Mornington Peninsula building from 3-4ft Thursday morning to 5ft later and then 6ft+ on Friday.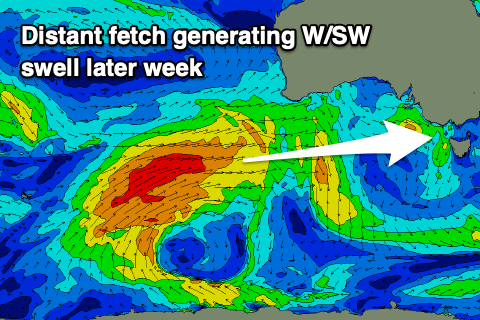 Winds will be favourable for both coasts on Thursday as the swell builds, N on the Mornington Peninsula and N/NW to the west, possibly holding all day and then N/NW-NW on Friday, favouring the Surf Coast.
The remnants of the storm linked to Friday's swell will re-intensify slightly, producing a trailing fetch of strong to gale-force W/SW winds and reinforcing SW swell for Saturday, slowing the easing trend. We should continue to see easing 3-4ft waves on the Surf Coast and 6ft+ to the east with persistent NW winds.
Longer term a couple of small fronts moving in from the west look to deepen while approaching us through the weekend, generating building levels of windy W/SW swell that at this stage looks to become moderate to large through next week. More on this Wednesday though.