Wednesday, 15 May 2019
Improving options across more exposed coasts
Victoria Forecast by Craig Brokensha (issued Wednesday 15th May)
Best Days: Thursday selected spots, Friday and Saturday most locations, Sunday exposed beaches
Recap
The Surf Coast continued to offer great reef waves to 3-5ft yesterday morning, remaining favourable into the afternoon, poor on the Mornington Peninsula beaches and great across Phillip island.
This morning the swell is easing back from 3ft on the Surf Coast and 4-5ft to the east, cleanest in protected spots again.
Today's Forecaster Notes are brought to you by Rip Curl
This week and weekend (May 16 – 19)
The surf will continue to drop into tomorrow and with the easing trend being a little quicker than expected into today, it looks like we'll be back to the small 2ft+ range on the Surf Coast and 3-4ft on the Mornington Peninsula.
Winds will be great for the Surf Coast and selected locations to the east with a light to moderate NW offshore, tending lighter and more variable from the NE, improving conditions into the afternoon east of Melbourne.
Our new inconsistent SW groundswell for Friday should lift wave heights through the day, with it generated early this week east of Heard Island by an intense polar low.
Generally surf to 3ft is expected on the Surf Coast, with the very inconsistent 4ft'er on the magnets, with 4-5ft waves on the Mornington Peninsula and the odd infrequent 6ft set.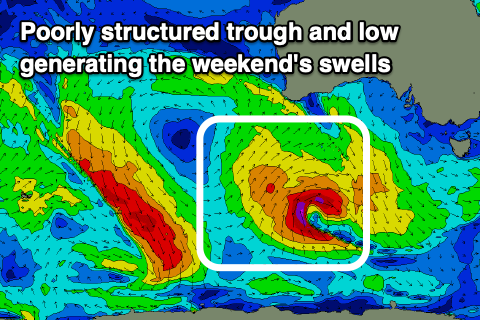 Winds now look to have a slight N/NW tendency on Friday morning, creating some bumps on the Mornington Peninsula, but easing and swinging more N/NE and variable into the afternoon, creating improving conditions as the swell starts to ease.
Saturday morning will be smaller and winds persistent from the N/NW, though a new mix of W/SW and SW swell are due to fill in through the day.
The source of these swells is tricky, with a surface trough deepening south-west of WA due to aim a fetch of strong SW winds through our western swell window today and tomorrow morning. A deepening low at the base of this trough more in our south-western swell window will produce stronger gale-force S/SW winds, aimed poorly towards us.
The wave models look to be combining these swells and over forecasting the size, with surf to 3ft only expected on the Surf Coast magnets Saturday, 4-5ft+ to the east.
The swells will ease Sunday from 2-3ft and 4-5ft respectively as winds swing more N/NE, favouring the beaches over the Surf Coast.
The broad mid-latitude stalling to our west is still forecast to do so, but remain positioned there in the Bight all weekend, moving east in a much weaker form across us Monday afternoon and evening.
No significant swell is due off this weak fetch of W/SW winds, with the surf due to remain small to tiny into the middle of next week with unfavourable winds from the north-western quadrant.
Longer term there's nothing too significant on the cards so make the most of the waves over the coming days.