Wednesday, 9 January 2019
Fun end to the week, poor weekend
Victoria Forecast by Craig Brokensha (issued Wednesday 9th January)
Best Days: Surf Coast Thursday, beaches Friday morning,
Recap
The long-period SW groundswell seen into Monday afternoon and evening held into yesterday morning with strong 4-5ft sets on the swell magnets across the Surf Coast and 6-8ft waves on the Mornington Peninsula with light winds through the morning. This created good conditions across selected breaks ahead of a stiffer onshore breeze into the afternoon.
The swell has eased off a little into today and an early light W'ly wind created good waves at dawn around Torquay, bumpier now and average across all other locations.
We should see the swell holding a similar size this afternoon as a reinforcing mid-period W/SW swell fills in.
Today's Forecaster Notes are brought to you by Rip Curl
This week and weekend (Jan 10 - 13)
The forecast for the end of the week is looking really fun.
The frontal system linked to this afternoon's reinforcing W/SW swell was a touch stronger than forecast on Monday and we should see easy 3ft waves persisting on the Surf Coast into tomorrow morning, with 4-5ft sets to the east, while a secondary front pushing up towards us today will keep fun sized sets hitting the coast into Friday morning.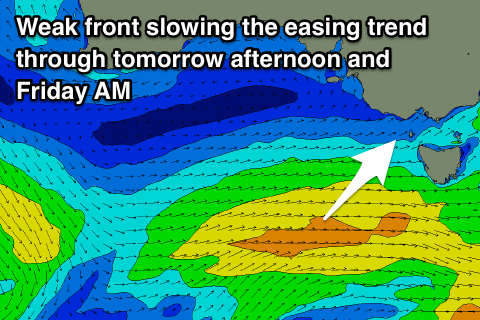 Winds tomorrow are looking great for the Surf Coast with a light W/NW-NW offshore, giving into weak S'ly sea breezes. The Mornington Peninsula won't be great but could be OK through the morning for those who aren't fussy.
Friday morning will be the best on the beaches as winds swing around to the E/NE-NE through the morning creating great conditions with easing 2ft to occasionally 3ft sets on the Surf Coast swell magnets, and 4ft on the Mornington Peninsula.
Unfortunately the weekend is still looking poor with the swell bottoming out on Saturday (possibly 1-1.5ft Surf Coast and with an early W'ly) but generally onshore with SW tending fresher S/SW winds.
A moderate S/SE tending fresher E/SE breeze on Sunday will continue to create average conditions with only a small lift in weak W/SW swell through the day from a short-lived burst of strong W/SW winds in our swell window Friday evening.
We might see the Surf Coast kicking to 2ft+ through the day with 3-4ft sets to the east but with those poor winds.
Monday should be better on the beaches as winds tend more E'ly but it'll only be small and weak with Sunday's swell on the ease.
From Tuesday we've got small to possibly moderate levels of W/SW groundswells due across the state though winds will unfortunately be better for the Surf Coast, which will be small, and onshore for the east.
We'll have a closer look at this Friday though.