Friday, 2 November 2018
Strong large swells inbound with favourable winds
Victoria Forecast by Craig Brokensha (issued Friday 2nd November)
Best Days: Surf Coast Saturday morning, Surf Coast Sunday, windows at locations to the east, both regions Monday morning and Tuesday morning, Surf Coast early Wednesday
Recap
Light winds early yesterday with the swell dropping back a touch from Wednesday but the beaches really lined up and started to fire with the dropping tide and freshening offshore wind, remaining clean until late arvo (13th Beach below) before a change moved through.
This morning we've got a bit of size left across the beaches with clean sets to 3-4ft, but winds quickly shifted more N/NW and the Surf Coast was mostly 2ft, with good 3ft sets at 13th Beach and other magnets.
Winds will swing more west through this afternoon as the swell continues to ease.
Today's Forecaster Notes are brought to you by Rip Curl
This weekend and next week (Nov 3 – 9)
We've got a very active forecast period ahead owing to a strong node of the Long Wave Trough developing across the Bight and moving slowly east through the weekend and next week.
Currently a vigorous cold front is passing under WA and through the Bight, generating a fetch of W/SW gales in our western swell window.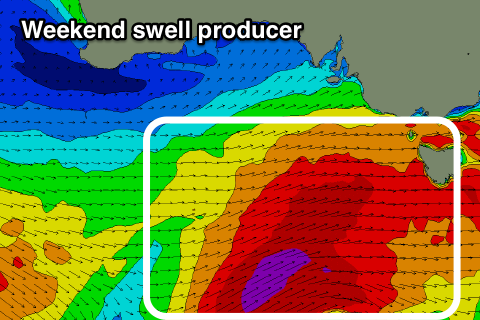 During today we'll see this storm broaden and strengthen while on approach from the west, with a great fetch of W/SW gales projected through our western and south-western swell windows, with the front moving through proper later this afternoon/evening.
With this we'll see a moderate to large W/SW groundswell that will build and strengthen through tomorrow, likely coming in at 3-4ft on the Surf Coast early tomorrow morning, but building quickly to 5-6ft on the sets into the afternoon.
At the core of this storm winds look a touch weaker than suggested Wednesday, with a great fetch of severe-gale SW winds projected on top an active sea state through our southern swell window this afternoon through tomorrow morning.
This will generate a larger long-period S/SW groundswell for Sunday morning coming in at 6ft+ across the Surf Coast, with 8ft to possibly 10ft sets on the Mornington Peninsula, easing through the day.
Looking at the local winds and a gusty W/SW breeze is due most of tomorrow, W/NW through the morning on the Surf Coast, while Sunday looks excellent with a moderate NW-N/NW offshore across both regions, tending variable ahead of mid-afternoon sea breezes. There's a chance winds will go N/NE for a couple of hours on the Mornington Peninsula, but in any case the spots handling the size should be fun through the morning.
Come Monday morning we'll be seeing smaller though fun 3-4ft waves on the Surf Coast swell magnets, 5-6ft to the east with an early N/NE tending N/NW and then NW-W/NW breeze with an approaching front.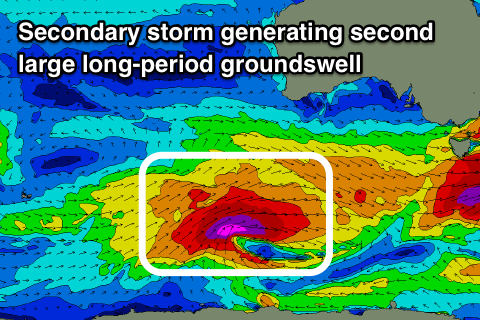 This front will be linked to a secondary vigorous polar storm being steered up towards us under the influence of the Long Wave Trough.
The storm will develop south-west of WA tomorrow morning, with a great fetch of severe-gal to storm-force W/SW winds projected through our south-western swell window before the storm stalls and weakens south-west of us Sunday evening.
As it stalls a secondary weaker front will spawn off its tail and push north through the Bight Monday and then across towards us Tuesday, with an afternoon change.
This will be fairly ideal as we'll see the large long-period SW groundswell fill in Tuesday, peaking through the morning to 4-6ft on the Surf Coast and 8ft on the Mornington Peninsula with a morning N/NW breeze, giving into an afternoon W/SW change.
With the weak nature of the front no significant swell is expected in its wake, with easing surf with W/SW winds Wednesday (W/NW early on the Surf Coast).
We'll see the swell continue to ease into the end of the week with winds from the western quadrant, but we'll have a closer look at this Friday. Have a great weekend!