Friday, 21 September 2018
Strong easing S/SW swell tomorrow, onshore Sunday until mid-next week
Victoria Forecast by Craig Brokensha (issued Friday 21st September)
Best Days: Surf Coast tomorrow, both coasts Tuesday morning and the beaches Wednesday
Recap
Great waves on the Surf Coast yesterday with Wednesday's large W/SW groundswell dropping back to a clean groomed 3-4ft on the Surf Coast, while locations to the east where bumpy and poor in the morning, better into the afternoon as onshore winds eased.
This morning we're back to a smaller 2ft to occasionally 3ft on the Surf Coast with good clean conditions again, bumpy and lumpy to the east.
Our strong new long-period S/SW groundswell is on track with it hitting Cape Sorell at dawn this morning and showing a strong distinct J-curve, which is rarely seen across the Southern Ocean buoys. The swell should arrive around midday and we should see this kick wave heights to 3-4ft on the Surf Coast and 5-6ft+ on the Mornington Peninsula as winds swing more west.
Update: Looking at the Cape Sorell observations, it looks like the Surf Coast will reach an easy 6ft by close of play today, bigger to the east.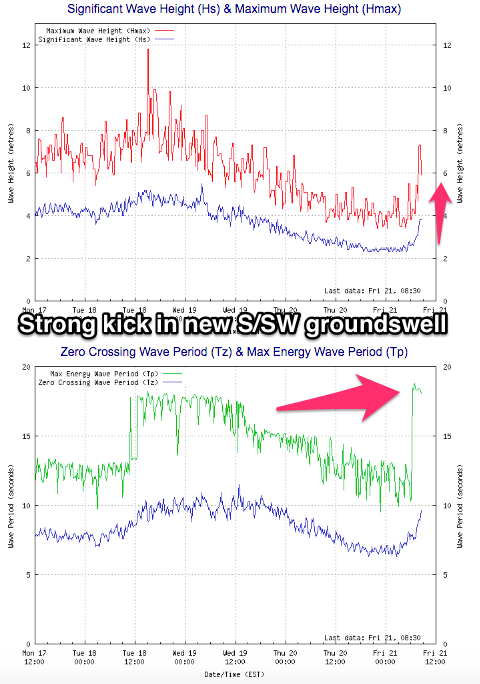 Today's Forecaster Notes are brought to you by Rip Curl
This weekend and next week (Sep 22 - 28)
This afternoon's strong kick in long-period S/SW groundswell is due to peak overnight and will ease back through tomorrow from 3ft+ on the Surf Coast and 5-6ft to the east.
Winds will be great for the Surf Coast most of the day and out of the NW early, swinging more W/NW through the morning and W/SW mid-afternoon.
Unfortunately our onshore winds for Sunday and Monday are still on the cards, with a front clipping us Saturday evening followed by a high moving in behind it.
Onshore S/SW winds will be seen on Sunday along with a new building SW groundswell that's due to peak Monday though with average S/SE winds again.
The groundswell will be generated by a strong polar frontal progression producing back to back fetches of strong to gale-force W/SW winds in our south-western swell window.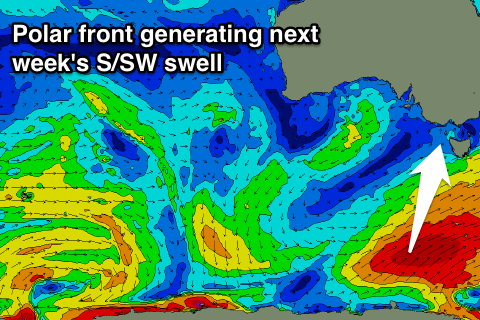 The Surf Coast should see 3ft surf Sunday morning, building to 3-4ft later and peaking in the consistent 4ft range Monday, but with those S-S/SE winds. The Mornington Peninsula looks to peak around 6ft+ on Monday with limited options for a quality wave.
The wind outlook has improved after deteriorating last update, due to a mid-latitude low that was forecast to form near the Bight now taking the form of a weaker surface trough.
This will then move east through early next week, with variable winds now likely Tuesday morning as the SW swell eases from 3ft+ and 4-5ft+ respectively.
Wednesday is looking like the day to surf though with a new S/SW groundswell and offshore N/NE winds as the trough nears closer.
The S/SW groundswell will be generated by a trailing polar frontal system then spawning into a much more significant polar storm south of Tassie.
Just before this storm leaves our swell window we'll see a moderate sized S/SW groundswell created, peaking Wednesday to 3ft+ on the Surf Coast and 4-5ft to the east with those offshore winds.
Beyond this there's nothing significant, but we'll review this Monday. Have a great weekend!