Friday, 10 August 2018
West isn't always best
Victoria Forecast by Craig Brokensha (issued Friday 10th August)
Best Days: Surf Coast Saturday, Sunday afternoon, Monday, Thursday morning, Friday
Recap
Good waves across selected breaks on the Surf Coast and Phillip Island yesterday with a mix of mid-period and groundswell energy out of the west under N-N/NW winds.
This morning the swell has eased back across all locations with strong offshore winds creating very tricky conditions, adverse to riding a surfboard.
Today's Forecaster Notes are brought to you by Rip Curl
This weekend and next week (Aug 12 - 17)
Want to receive an email when these Forecaster Notes are updated? Then log in here and update your preferences.
A low point in swell is being seen this morning, but later today we should see some new W/SW groundswell filing in, with a secondary reinforcing pulse for tomorrow.
These swells have been generated by strong pre-frontal W/NW winds developing south-west of WA, projecting east-southeast through our western swell window.
Magnets on the Surf Coast should see 2-3ft sets tomorrow, with 4-6ft sets on the Mornington Peninsula though a W/NW breeze will favour protected spots. This wind looks to persist most of the day, possibly swinging W/SW late afternoon.
The swell will weaken in strength into Sunday morning but remain around the same size range as some new mid-period W/SW swell fills in, building slowly through the afternoon and peaking Monday with some SW component in the mix.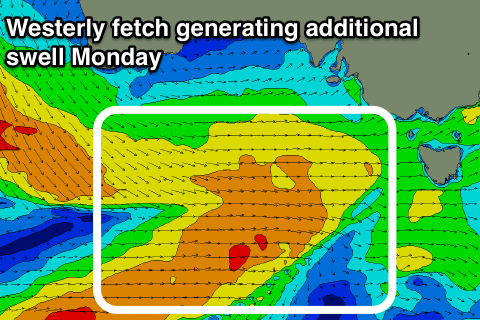 These swells will be generated by a relatively weak but broad and persistent fetch of W/SW-SW winds projected through our western and south-western swell windows from yesterday throughout the weekend.
The Surf Coast should remain around 2-3ft at swell magnets, though weaker Sunday morning with 4-5ft surf to the east, kicking to a more consistent 3ft and 4-6ft respectively into the afternoon under persistent W/NW winds.
Monday morning looks to come in around a similar size as winds hold out of the W/NW. The swell is expected to ease later in the day, smaller but steadying Tuesday. This steadying trend is linked to poorly aligned but persistent W/NW fetches being generated in our immediate swell window.
The Surf Coast only looks to hang in at 2ft, with 3-5ft sets to the east under a fresh NW tending N/NW due to an approaching cold front.
This front, mentioned last update is expected to deliver a moderate (Surf Coast) to large (Mornington Peninsula) sized W/SW groundswell event.
The frontal progression will be a mix of embedded lows and fetches, rolling in from the south-east Indian Ocean from Monday next week, through the Bight Tuesday and Wednesday and then across us Wednesday evening.
Winds will reach severe-gale with possible bursts of storm-force winds but from the west, with an acute long-period W'ly groundswell filling in Thursday.
At this stage we're looking at surf to 4ft on the Surf Coast and 8ft on the Mornington Peninsula with the acute westerly direction. The models are over-forecasting the expected size with the multiple swell trains out of the western quadrant.
Winds will be best for protected spots with a general W/SW breeze, W/NW for a period in the morning around Torquay. The swell looks to ease under NW winds Friday but more on this in Monday's notes where we'll have another look at the expected size of Thursday's swell.
Have a great weekend!