Yesiree, another very large swell inbound for Victoria
Victorian Surf Forecast by Ben Matson (issued Friday 31st March)
Best Days: Large surf this weekend, best suited to protected locations west of Torquay and inside Western Port. Mon/Tues/Wed: E'ly winds and good options across the open beaches east of Melbourne.
Recap: Thursday delivered very large waves across Victorian beaches, around 6-8ft in Torquay and up to 10-12ft+ east of Melbourne. Winds were briefly NW in Torquay but swung cross-onshore to the W/SW from mid-morning onwards, relegating the best surf to protected locations. Today we've seen surf size ease through Torquay still managed 4-6ft sets for the early session, and winds have veered back to the W/NW so it's clean here. Wave heights are much bigger but bumpier east of Melbourne, again favouring protected locations.
This weekend (Apr 1 - 2)
The latest satellite scatterometry have confirmed a broad fetch of 50kt+ winds associated with the Southern Ocean low that's producing the weekend's large swell. However several passes missed the core fetch (see below) which is expected to be closed to 60kts.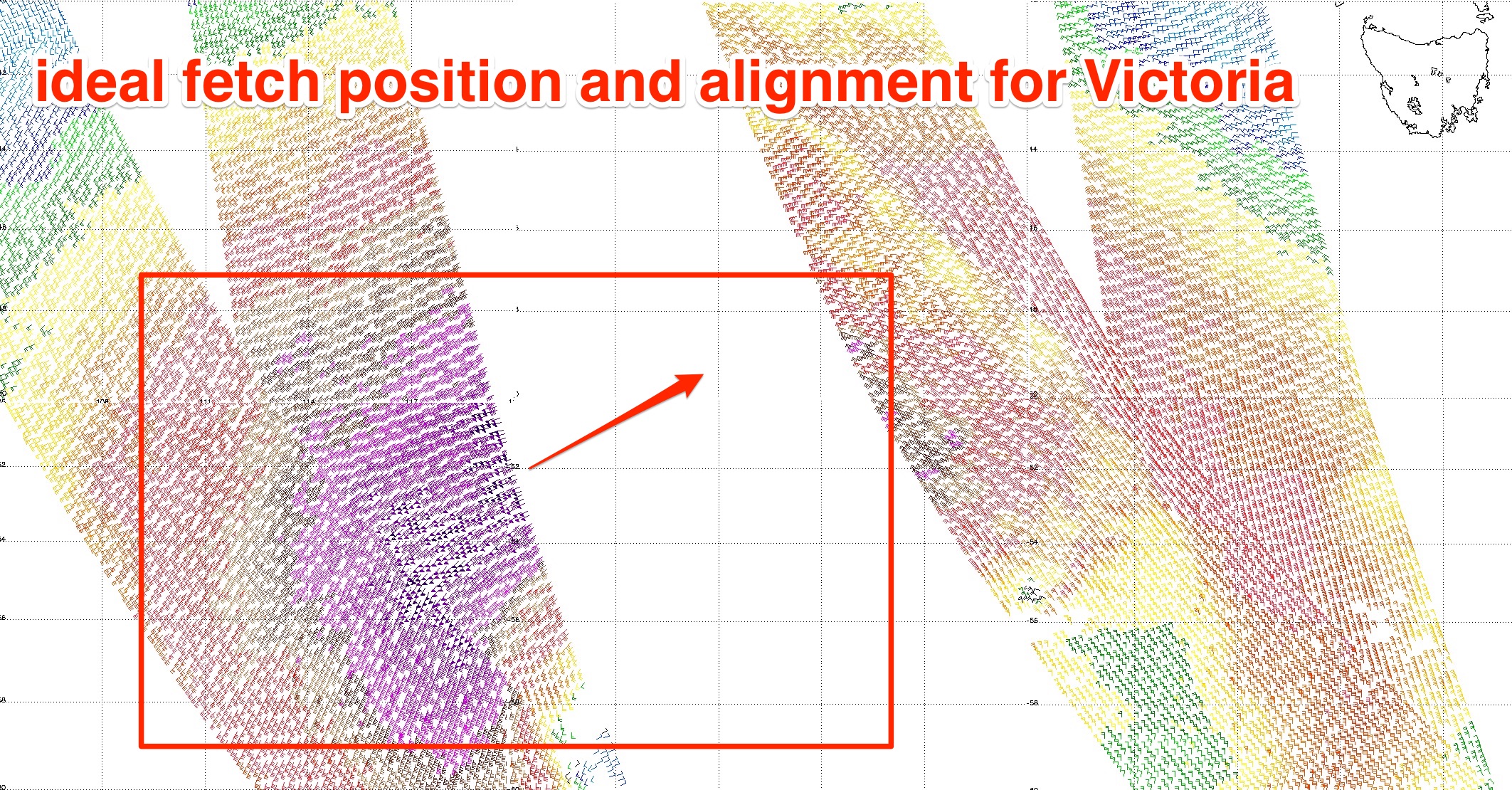 Anyway, this is a moot point - the model output has been consistent all week, the satellite data has confirmed the model guidance and so we're looking at very large long period groundswell building through Saturday, peaking late afternoon and easing slowly from Sunday morning.
Unfortunately, the peak of this swell will coincide with a cold front crossing the region - attached to the same low that produced the swell (though it's now weakening). This will bring a W/SW (Surf Coast) to SW (East Coast) change some time on Saturday morning. Torquay should see a brief period of early W/NW thru' NW winds around sunrise but this won't last long, and these favourable conditions will also occur at the bottom of the swell cycle (dawn sets are expected to be around 3ft+ on the Surf Coast). The wind is expected to swing between 8am-10am across all coasts.
The afternoon should see surf size push up into the 6-8ft range at most Surf Coast locations, and I wouldn't be surprised it the last few hours of the day saw occasional 10ft+ wash-throughs in and around Bells Beach. But, winds will be moderate to occasionally fresh W/SW. This could be workable if you don't mind the bumps (it won't be howling gales) but really, there'll be much better options at sheltered locations.
East of Melbourne will see even bigger surf than this but obviously it'l be too big and windy for exposed spots so protected locations should have great waves.
Expect an easing trend from Sunday. Early morning may see some 6-8ft sets across reliable Surf Coast swell magnets, but in general it'll be down to 4-6ft by late morning thru' lunchtime and then 3-5ft by the late afternoon. The models are maintaining a light to moderate S'ly breeze on Sunday but we should see local topographical influences swinging this around to the W/NW west of Torquay for most of the morning.
East of Melbourne will offer great waves at protected locations on Sunday though the S'ly breeze is more likely here (however there won't be much strength in it).
Next week (Apr 3 onwards)
Nothing of any major interest for next week. A moderate series of poorly aligned fronts will maintain small surf in Torquay all week but without anything overly special.
Winds will swing to the east from Monday thru' Wednesday which will favour the open beaches east of Melbourne; with size easing from 4-6ft early Monday down to an inconsistent 3-4ft through Tuesday and Wednesday. There should be some decent waves here though this will obviously be conditional on how the banks hold up after this extended run of large surf.
Similarly sized swells are expected Thursday and Friday with winds around to the north.
Next weekend is looking at slightly better swell pushing through as the storm track pushes a little closer to the mainland. There's a suggestion for a large swell early in the following week but that's a long time away, let's take a closer look on Monday.
Have a great weekend! See you Monday.