Autumn arrives with large persistent swells
Victoria Forecast by Craig Brokensha (issued Friday 24th March)
Best Days: Swell magnets each morning over the weekend, Monday morning, Tuesday morning onwards Surf Coast, east of Melbourne Wednesday morning
Recap
Terrible conditions across all coasts yesterday with a good increase in new SW groundswell along with smaller and weaker amounts of SE windswell.
Today the swell has dropped back a bit, but an E'ly wind has provided better conditions to the east of Melbourne with peaky 3-4ft surf. The Surf Coast remained average with 2ft of SE and SW swell.
This weekend and next week (Mar 25 – 31)
There's been no real change to the weekend's forecast, with two small and inconsistent pulses of SW groundswell due, the first for tomorrow, with a slightly better pulse for Sunday.
Swell magnets on the Surf Coast should see inconsistent 2ft sets tomorrow, a touch bigger through Sunday. The Mornington Peninsula should offer inconsistent 3ft to occasionally 4ft waves tomorrow, 3-5ft Sunday.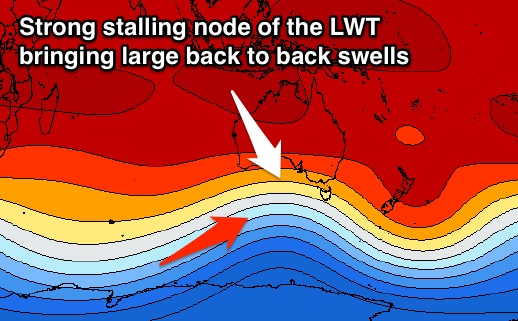 Winds will be great for magnets tomorrow with light local offshores before sea breezes kick in, with more variable winds on Sunday morning, E/SE into the afternoon.
Later in the day Sunday a new S/SW groundswell is due, generated by a strengthen and small polar low firing up along the polar shelf this evening and tomorrow. A fetch of gale to severe-gale W'ly winds will just be within our swell window, with the swell due to peak Monday morning to 2-3ft at magnets on the Surf Coast Monday and 4-5ft on the Mornington Peninsula.
Conditions will be great with a freshening N'ly offshore, favouring the beaches, giving into a W/SW change through the mid-afternoon.
This change will be associated with a vigorous cold outbreak in the Southern Ocean owing to a strong node of the Long Wave Trough moving in across the country.
The Long Wave Trough dictates the Southern Ocean storm track and its strength, and with this node moving slowly through the Bight while strengthening, we'll see a significant frontal progression extending from us to the south-west of WA.
The stalling nature of the LWT will see strong embedded fronts projected through our swell window generating tricky but large pulses of swell all next week.
The first and 'smallest' increase is due through Tuesday, produced by a strong mid-latitude front dipping south-east from the Bight through our swell window Monday.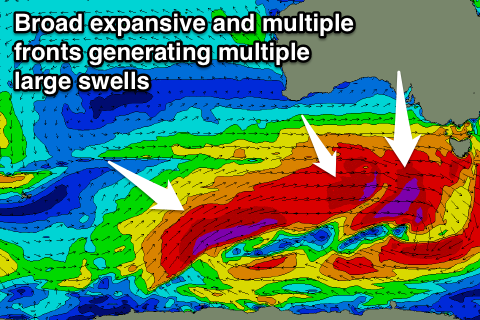 A moderate sized W/SW groundswell should be produced for Tuesday, building through the afternoon to 3-4ft on the Surf Coast into the afternoon and 6ft+ on the Mornington Peninsula, if not bigger on dark.
Behind this front an expansive fetch of severe-gale to near storm-force W/SW winds will be drawn out all the way from us to south-west of WA.
The strongest winds will be further away from us, generating a large less consistent long-period groundswell for Thursday, while severe-gale W/SW winds generated south of the Bight Monday afternoon will generate a moderate to large W/SW swell for Wednesday morning.
We'll likely see the timing and sizes shifting around this far out, but ball-park figures are 4-5ft Surf Coast Wednesday morning and 8ft Mornington Peninsula Wednesday morning, while the larger swell for Thursday looks to be an easy 6ft on the Surf Coast and 8ft+ on the Mornington Peninsula.
Winds look favourable for the Surf Coast each morning (with even N'ly breezes on the cards for Wednesday morning), but more on this Monday.
After Thursday's large swell another front is likely to produce another swell for next weekend, but this will all be covered again Monday. Have a great weekend!