Monday, 11 April 2016
Torquay early tomorrow, both coasts Thursday
Victoria Forecast by Craig Brokensha (issued Monday 11th April)
Best Days: Torquay Tuesday morning, Thursday both coasts, Friday morning both coasts, leftovers Surf Coast Saturday morning
Recap
Great waves on the Surf Coast Saturday with a mix of building swells and all day offshores. The afternoon surf was the best with 5ft sets and great conditions on the reefs. A drop in size was seen into Sunday back to 3-4ft, and conditions were great again most of the day with strengthening winds from the W/NW.
The Mornington Peninsula was average, with protected locations offering the best surf.
Today another pulse of strong S/SW groundswell has pushed in, kicking the surf back to 4-5ft around Torquay, with larger sets to the east, and conditions were favourable early with a light W/NW breeze, but this is starting to now swing onshore.
This week (Apr 12 – 15)
Today's pulse of S/SW groundswell was generated over the weekend, and there hasn't been to much secondary activity in the wake of the strong frontal system producing it.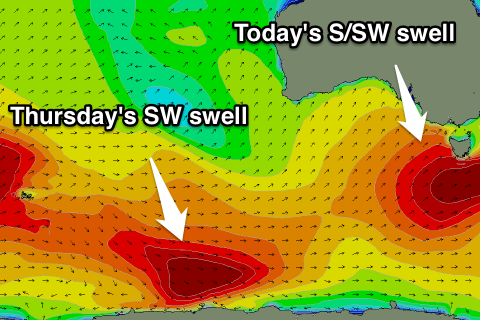 A slow downwards trend is due through tomorrow, from 3-4ft+ across the Surf Coast (5ft bombs likely still early at swell magnets) and 6ft+ on the Mornington Peninsula but with SW onshore winds.
The Torquay region however is highly likely to see early W'ly winds again through the morning.
Wednesday still looks like a good lay day, with a further easing in swell and light to moderate onshore winds from the S/SE.
Thursday's strong long-period SW groundswell has been downgraded a little, with the vigorous frontal progression that was forecast to produce it, not quite reaching the strength (storm-force) it was forecast to last Friday.
Instead a fetch of gale to severe-gale W/NW winds were generated in our far swell window, with a small to moderate but inconsistent SW groundswell due to arrive through Thursday morning, building to an inconsistent 3ft+ on the Surf Coast and 4-6ft on the Mornington Peninsula. Conditions are looking great still for most locations with a light to moderate offshore N/NE wind, tending more N/NW on the Surf Coast late morning and then variable into the afternoon.
Friday morning should be clean again across most locations with an early light N/NW breeze, tending weak SW into the afternoon. The swell will be on the ease though from an inconsistent 2-3ft on the Surf Coast and 3-5ft on the Mornington Peninsula.
This weekend onwards (Apr 16 onwards)
Saturday morning will be a low point in swell activity and the Surf Coast should be clean but only around 2ft, ahead of an onshore S/SW change.
This change is set to spoil a new SW groundswell that's set to build through Sunday, easing Monday.
The frontal progression generating this swell isn't overly strong, but it will be sustained, developing south-east of Heard Island and tracking along all the way to our region through the second half of the week.
The Surf Coast should build to 3-5ft Sunday afternoon with 6ft+ sets on the Mornington Peninsula but with fresh to strong S/SE winds. Monday doesn't look any better with easing surf and E/SE-SE breezes. But check back here Wednesday for more on this.