Developing stormy SE windswell, cleaning up and easing Thursday
Victoria Forecast by Craig Brokensha (issued Monday 2nd November)
Best Days: Keen surfers tomorrow morning both coasts, Thursday Surf Coast as easing SE windswell cleans up (small on MP), Sunday morning east of Melbourne, Monday both coasts
Recap
Fun peaky 3-4ft waves across the Mornington Peninsula Saturday morning with variable winds on the Surf Coast but smaller and lumpy/unorganised 1-2ft surf. An inconsistent but new SW groundswell filled in through the afternoon and held well into Sunday morning with 2ft+ sets across exposed breaks on the Surf Coast with 4-5ft sets on the Mornington Peninsula under local offshore winds.
An onshore change moved through early afternoon creating poor condition, while today winds were light at dawn but the swell tiny and weak. A stronger onshore change has since moved through leaving no decent surfing options.
This week (Nov 3 - 6)
Today's onshore change is linked to an unfavourably tracking but strong frontal system dipping south-east from under WA, with it now sitting under Tasmania.
I really don't like the look of the swell generated off this system, but the wave models are picking up some decent size for our region, which would be expected to come in at 2-3ft on the Surf Coast and 4-5ft+ on the Mornington Peninsula.
Personally I think the swell will be a touch smaller than this, so keep your expectations similarly adjusted for tomorrow morning. Winds are again tricky tomorrow morning but it looks like we'll see variable breezes at some stage before strengthening from the E/SE and kicking up some late windswell across the Surf Coast.
These strengthening E/SE winds will be related to a deepening inland surface trough across us, with the fetch through Bass Strait likely to reach the gale-force range through Wednesday, kicking up a solid 3-4ft+ of SE windswell for the Surf Coast but with strong to gale-force E/SE winds. The Mornington Peninsula will see less size developing to 2ft, with the easing SW swell being more dominant through Wednesday morning.
Come Thursday the low is expected to drift south-east resulting in winds swinging from the NE to N/NE through Thursday morning and then possibly NW into the afternoon but more likely variable. This should provide fun, peaky and improving waves across the Surf Coast, worth a hunt around.
The SE windswell fade quickly though, dropping from 2-3ft or so, down to 1-2ft through the afternoon on the Surf Coast. The Mornington Peninsula will only see small 2ft+ or so of background SW groundswell easing through the day.
Into Friday an onshore SW change is due to move through as the low continues moving east, but the timing of this is still a little open.
A mix of new long-period and inconsistent W/SW and SW groundswells are due, the W/SW energy produced in our far swell window and not offering any real size, but the SW swell should be generated at polar latitudes south of WA during the coming days.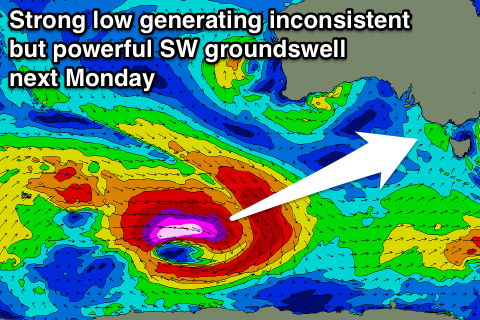 We should see the Surf Coast kick to the 3ft range through the day with 5-6ft sets on the Mornington Peninsula, easing back through Saturday with what looks to be poor S/SE winds. Sunday should be better as winds tend E/NE, favouring the Mornington Peninsula.
Longer term, as talked about on Friday, a more significant swell is due early next week, produced by a very strong and powerful low firing up under WA later this week.
At this stage this swell looks to be in the 3-4ft range on the Surf Coast and 6ft to occ 8ft on the Mornington Peninsula with N'ly winds, but check back here Wednesday for an update on this.