Friday, 3 October 2014
Great Saturday, good Monday, possibly more action the following week
UNLESS YOU LIVE AT THE BEACH, PLEASE DON'T TRAVEL TO SURF
COVID-19 is changing the way we think about surfing. Travelling to the surf now means you're putting an unnecessary strain on the resources of small regional communities. So, please stay home. If you live near the beach and want to surf, please maintain a healthy spacing in the lineup, don't hang in the carpark, and keep your surf sessions shorter to allow others the opportunity to get wet. Above all, stay happy, healthy and look out for one another.
Victoria Forecast by Craig Brokensha (issued Friday 3rd October)
Best Days: Friday, Saturday morning, Sunday morning east of Melbourne
Recap
Wednesday's large W/SW groundswell eased from a clean 3-5ft around Torquay yesterday morning with bumpier waves at 13th Beach and average 6-8ft surf on the Mornington Peninsula. Conditions deteriorated into the afternoon on the Surf Coast as winds tended onshore.
Today a strong new S/SW groundswell has filled in as expected with good clean 3-5ft waves on the Surf Coast and 6ft to occasionally 8ft waves on the Mornington Peninsula under light offshores winds to the west of Melbourne and light (variable) onshore breezes across the Mornington Peninsula.
We should see the swell ease through the afternoon as light SE winds develop, so get out there now.
This weekend (Oct 4 - 5)
Tomorrow is looking great across both regions, although probably still a little on the big side across the Mornington Peninsula.
Today's S/SW groundswell is expected to ease through the day under N/NW winds on the Surf Coast and N'th on the Mornington Peninsula before tending variable into the afternoon. The Surf Coast should drop from 3ft+ with 5-6ft waves on the Mornington Peninsula and then Sunday is due to be smaller and around 2ft+ on the Surf Coast and 3-5ft east of Melbourne.
The only issue with Sunday is the local winds and unfortunately they look poor with an onshore change moving through early in the day bringing SW tending SE winds creating average conditions. There's a slight chance for an early W/NW'ly around Torquay but it's not worth the drive from Melbourne.
Monday onwards (Oct 6 onwards)
A fun but inconsistent uptick in W/SW groundswell is due Sunday afternoon, peaking Monday morning, generated by a strong but unfavourably tracking low south-east through the Southern Ocean.
Inconsistent 2-3ft sets are expected on the Surf Coast from this swell with 4-6ft waves on the Mornington Peninsula under fresh N/NE winds. This will favour the beaches across both coasts all day.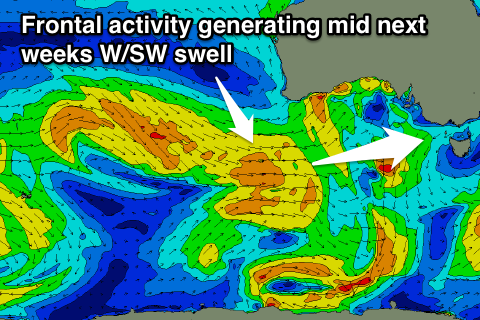 Into Tuesday a vigorous front is expected to move through with a small swell through the morning under strong W/NW tending SW winds.
With this front we should see a fresh pulse of close-range W/SW swell but some better W/SW groundswell is expected to fill in from better trailing frontal activity under the Bight.
This swell should fill in Wednesday and peak through the afternoon to 3ft on the Surf Coast and 6ft on the Mornington Peninsula under W/NW tending W/SW winds. A slow drop in size is then due into Thursday and Friday under more favourable NW winds each morning.
Longer term some better and larger groundswell energy is on the cards for next weekend and the following week as a strong node of the Long Wave Trough moves in from the west late next week, but we'll look at this more on Monday. Have a great weekend!