Good next few days, large and stormy next Tuesday along with snow
Victoria Forecast by Craig Brokensha (issued Wednesday 18th Jun)
Best Days: Thursday, Friday, Saturday, early Sunday
Recap
A new short-range W/SW swell filled in yesterday and the Torquay region performed the best with early light W'ly winds but conditions were still a little bumpy/lumpy. The Mornington Peninsula was a write off with fresh onshore winds and a larger stormy swell.
Today the swell is easing slowly but conditions are much cleaner with a light NW wind and this should tend more variable into the afternoon, providing improving conditions east of Melbourne.
This week and weekend (Jun 18 - 22)
As touched on in Monday's notes, a mix of long-range and very inconsistent W/SW groundswell along with a better SW groundswell are due across both coasts tomorrow ahead of a reinforcing W/SW groundswell Friday.
The best pulse tomorrow has been generated by a healthy polar front the last couple of days and should provide good 3ft sets across the Surf Coast with 5-6ft waves on the Mornington Peninsula.
Friday's reinforcing W/SW groundswell is due to be a touch smaller and less consistent to 2-3ft and 5-6ft respectively.
Winds tomorrow should be favourable for a wide variety of locations with a fresh N/NW tending N'ly breeze on the Surf Coast and persistent N/NE winds on the Mornington Peninsula.
Come Friday winds are due to persist from the N/NW all day but will probably tend straighter N'ly at times east of Melbourne.
Into the weekend the swell should slowly dip away from the W/SW, from 2ft+ or so on the Surf Coast Saturday and 2ft Sunday on the Surf Coast (slightly under the model forecasts as it looks like Wave Watch is over-forecasting a W/SW swell developing in the Bight this evening and tomorrow as well as a long-range W/SW groundswell). The Mornington Peninsula should offer inconsistent but good 3-5ft waves Saturday and Sunday morning.
Winds on Saturday are expected to persist from the N/NW before tending variable into the afternoon, favouring the Surf Coast and western end of the Mornington Peninsula. Sunday should see winds holding from the N/NW all day as the swell drops away.
Next Monday onwards (Jun 23 onwards)
Monday will be a day to miss with tiny amounts of swell and strong to gale-force N/NW winds ahead of a W'ly change linked to a vigorous frontal system moving in from the west.
As touched on last update, the models were divergent on the strength, make-up and intensity of this system but now they're starting to firm up.
What we'll see is a mid-latitude frontal system pushing in from WA, feeding off a deep pool of cold air in the upper atmosphere resulting in the system deepening significantly while pushing across us.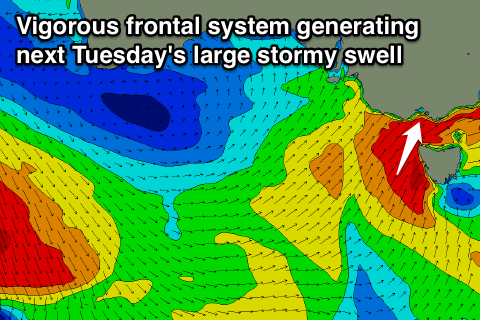 This will see a fetch of gale to severe-gale SW winds projected up into us Monday evening and through Bass Strait Tuesday kicking up a large and stormy S/SW swell along with a good dump of snow in the alpine regions.
Size wise we're probably looking at stormy 6ft waves on the Surf Coast developing through Tuesday with 8-10ft surf on the Mornington Peninsula but with gale-force SW winds.
The weather system is expected to push off into the Tasman Sea on Tuesday evening resulting in a drop in size through Wednesday. The models diverge on a possible secondary system firing up towards us during the middle of next week, generating a reinforcing swell with more favourable winds, but we'll discuss this Friday.