Poor weekend, better next week
Victoria Forecast by Craig Brokensha (issued Friday 6th Jun)
Best Days: Monday, Tuesday and Wednesday morning on the Mornington Peninsula, Thursday on the Surf Coast
Recap
A medium sized W/SW groundswell filled in through yesterday and Torquay performed the best with a morning W'ly that flirted onshore through the early afternoon before backing off again late and swinging offshore.
Today the swell was much cleaner with 3ft waves persisting across the Surf Coast, while the Mornington Peninsula offered larger and workable 4-6ft waves with a variable breeze. Winds should pick up from the W/NW during the day ahead of a fresh afternoon W/SW change and drop in swell, so get surfing now.
This weekend (Jun 7- 8)
There's been no change to the average looking weekend ahead, with early tomorrow around Torquay expected to be the only clean period of waves, but the swell will be small. A fresh W/NW wind will give way to a strong S/SW change before lunch and with this a medium sized increase in SW groundswell is due to follow and peak Sunday morning.
Winds will remain poor though with a fresh but easing S/SE breeze that may become light into the afternoon, so the late session Sunday may reveal some OK surf for desperate surfers.
Next Monday onwards (Jun 9 onwards)
Monday is now looking a lot better with a ridge of high pressure moving in quickly from the west resulting in winds tending around to the E/NE, creating good surf on the Mornington Peninsula. Size wise the Mornington Peninsula should ease from 4-5ft with 2ft+ sets on the Surf Coast (up to 3ft at 13th Beach).
Tuesday should be cleaner on the Surf Coast as winds swing around to the N/NW locally but there isn't expected to be much size left above an inconsistent 1-2ft while the Mornington Peninsula should offer good clean 3ft sets.
As touched on Wednesday, we'll finally start to see a better winter frontal progression firing up through next week as a node of the Long Wave Trough strengthens across south-west WA and pushes east towards us.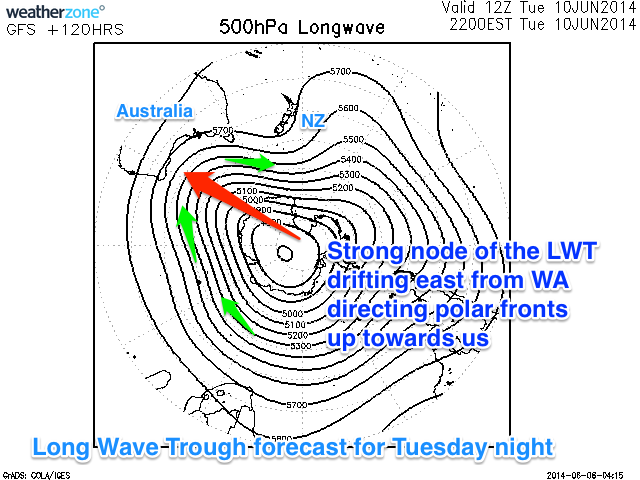 This will in effect steer and strengthen polar fronts up from the Heard Island region initially towards WA before focussing the attention further east and towards the Bight (illustrated right).
Initially medium sized levels of W/SW groundswell are due to start filling in from Thursday before clocking more SW in direction into next weekend and possibly becoming bigger.
It's too hard to lock down the sizes of each pulse at this early stage, but Thursday and Friday are likely to be in the 3ft range across the Surf Coast and 6ft on the Mornington Peninsula with more size likely into the weekend. Winds should be favourable for the first half of this event but may turn for the worst through the peak of the swell, but we'll provide another update on later next week and the weekend on Monday. Have a great weekend!