Lingering SE swell before going quiet for the end of the week
Sydney Hunter Illawarra Surf Forecast by James Casey (issued Monday 21st June)
Best Days: Tuesday, Wednesday, Saturday, Sunday
Outlook (tl;dr)
Reinforcement of SE swell on Monday with waves up around 4-6ft easing to 3-4ft on Tuesday
A final pulse of SE swell around the 3ft+ mark on Wednesday morning before the swells eases below 2-3ft. Winds will be out of the NW early tending more NE as the day goes on
N winds and small waves for Thursday and Friday with a small NE windswell and leftover SE swell combining
A series of inconsistent long period S swells with offshore winds will mean there are waves on the weekend but you'll need to be patient. Saturday 2-3ft and super lully and Sunday 3ft and marginally more consistent. Both days will be a bit bigger for the Hunter
Recap
Well it was a wet and windy weekend but there were some solid waves on offer peaking on Saturday up around 10ft at S swell magnets while the more protected spots saw far less size.
Yesterday the swell dropped fairly quickly, starting out at 6ft+ and easing to 4-6ft by the evening.
Today we have 3-5ft of SE swell thanks to a new pulse of energy. Winds were WSW early but are tending more south as the day goes on.
This week
Expect the swell to ease to 3-4ft tomorrow (Tuesday) as the run of swell slowly starts to ease into Tuesday afternoon. Winds will be lighter and SW early before easing and tending more light and variable but onshore into the afternoon.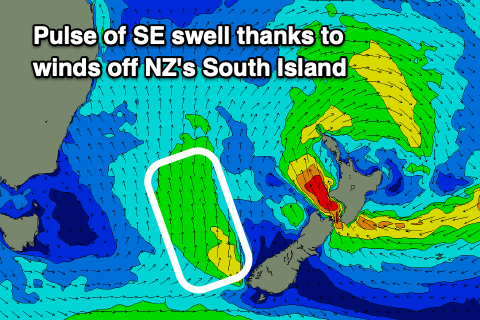 A final pulse of SE swell looks to arrive early on Wednesday morning thanks to winds off the southwestern tip of NZ's South Island. I'd expect waves around the 3ft+ mark early before easing into the afternoon.
Winds on Wednesday will start out light out of the NW early before swinging around to the N/NE and strengthening into the afternoon. I'd expect a bit of NE windswell by the afternoon but it'll only be small.
As the final pulse of SE swell fades a small NE windswell will gradually build to 1ft. Winds will remain strong out of the N as a low and associated trough move in from the southwest. I wouldn't expect many quality wave options on Thursday with just a mix of small NE windswell and leftover SE swell. Northern corners will be the pick more protected from the winds.
Winds will go more offshore on Friday as the low moves east over the Tasman. This will create a few more options for clean conditions but there won't be too much on the cards swell wise with just the small leftover NE windswell in that 1ft range.
The weekend
Winds will remain offshore all day on Saturday while an inconsistent, long period S swell fills in. I wouldn't get too excited about this swell as it'll only really be for S swell magnets and it'll be very lully but there'll be 2-3ft sets, 3ft for the Hunter, but long waits for these sets. This swell will originate deep in the Southern Ocean travelling from beneath Tassie to reach our coast.
Sunday we will see a slightly more consistent swell from another pulse of S energy from the Southern Ocean. It'll be more consistent as the fetch is better aimed and not as far west and south in the Southern Ocean. This second pulse will build throughout the day with 3-4ft sets showing up on the Hunter, more like 3ft for south swell magnets in Sydney and the Illawarra. Winds will start off offshore in the morning but look to shift S with a change late Sunday afternoon so get out before the change to make the most of the S energy.
Early next week there looks to be another pulse of S energy with the S change but let's dive into that on Wednesday.