Friday, 22 February 2019
Average weekend winds though plenty of swell; decent waves most of next week
Sydney, Hunter and Illawarra Surf Forecast by Ben Matson (issued Friday 22nd February)
Best Days: Mix of small S'ly E'ly and NE swells on Saturday, building strongly from the S/SE on Sunday. Winds will be an issues at times though. Better SE swell for Monday with much more improved conditions. Mix of swells for the longer term, mainly out of the E/NE with favourable winds.
Recap: Southerly winds have been variable in strength across the coast over the last two days, generally moderate to fresh south of the harbour but light to the north, so there's been a wide range in conditions. Building S'ly swells on Thursday managed 3ft sets at south facing beaches into the afternoon, persisting into today, but we've also seen a NE swell muscle up this afternoon from TC Oma, offering occasional 3ft, almost 3-4ft sets at exposed beaches.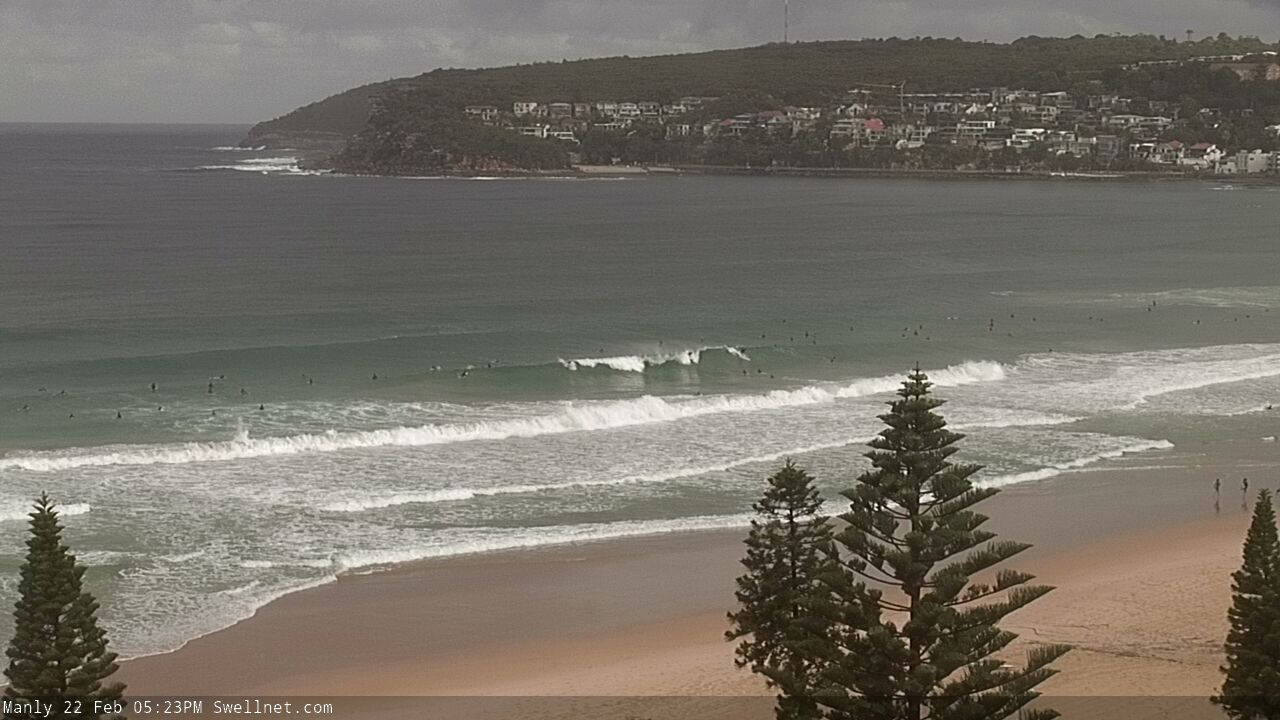 Late Friday arvo NE sets at Manly
This weekend (Feb 22 - 23)
Today's Forecaster Notes are brought to you by Rip Curl
So, the current NE swell from TC Oma will probably be short lived.
Model guidance has it easing into Saturday, which fits the trend observed up north (though at much smaller size!), and the synoptic charts which show TC Oma weakening over the last 24 hours, losing strength across its eastern quadrant which had the most favourable swell window for Southern NSW.
Expect smaller, inconsistent sets up to 2-3ft sets early Saturday morning, easing a little during the day. Don't bank on there being anything amazing though, as it's a flukey swell source. We'll also see slightly smaller levels of S'ly swell from today into Saturday morning, though it'll keep south facing beaches flush with occasional 2-3ft sets.
TC Oma will in fact restrengthen over the coming days but it'll be entirely focused up into the Coral Sea. As such, as we'll be positioned right at the tail end of the fetch, we'll see a comparatively smaller spread of E'ly swell across our coasts, probably around 2-3ft through Saturday before building a little more into Sunday.
In fact, we'll see bigger surf this weekend from a strong front pushing through the lower Tasman Sea. This should kick up a new S/SE swell into the 4-5ft range, perhaps reaching the South Coast on Saturday afternoon, but favouring most regions through Sunday (models have it into Sydney later Saturday but I'm not convinced).
This front will be pushing through a nice part of the swell window and we may see some bigger sets (4-6ft) at reliable south sea magnets such as the Hunter through Sunday. Though, beaches not open to the south will see smaller surf from the east.
Unfortunately, the weekend's winds don't look great: the near-stationary nature of TC Oma and a high to the south will maintain a ridge across Southern NSW, keeping mainly moderate, occasionally fresh S/SE winds across all coasts. There is an outside chance for isolated regions of light winds (mainly in the mornings) but I wouldn't get your hopes up. Winds should however be lighter south from the Illawarra - though the E'ly swell will become smaller with increasing southerly latitude.
Next week (Feb 24 onwards)
TC Oma will remain on the synoptics for some time. However, we won't see any new surf from it for a few days.
The weekend's Tasman front will stall near the SW tip of New Zealand's South Island, and strengthen a decent fetch through Sunday that'll offer a good round of SE swell through Monday in the 4-5ft+ range, before easing steadily into Tuesday.
Winds are expected to ease quite a bit as TC Oma slowly tracks to the north, so conditions should be pretty good. Just keep an eye out for a lingering onshore (no synoptic offshores are likely, only brief terrestrially induced patterns).
On Monday, TC Oma will reorientate itself in the northern Tasman Sea, as a high ridges up to the south, swinging the primary fetch more to the east. This still own't be in our swell window but it'll be an improvement from the weekend, and as the ridge builds out into he South Pacific we'll see a decent spread of E/NE swell through the middle to latter part of next week (later Tuesday onwards), with wave heights reaching 2-3ft, maybe 3-4ft if we're lucky.
Conditions should be pretty good for much of this time frame with manual light winds and sea breezes.
Long term surf prospects look subdued form the south with only modest frontal systems expected to glance our swell window.
TC Oma will probably linger about the Coral Sea and not directly influence our coastline with a major swell event. However a new tropical system is expected to form near Samoa over the weekend and slide south of Fijian longitudes into the start of next week. This has good potential at delivering a brand new E/NE swell sometime around the following weekend.
More on this in Monday's notes. Have a great weekend!