One last pulse from Ex-TC Victor
Sydney, Hunter and Illawarra Surf Forecast by Guy Dixon (issued Wednesday 27th January)
Best Days: Thursday at protected northern corners, Saturday and Sunday mornings.
Recap:
East/northeasterly groundswell has been persisting over the past couple of days, with subtle ebbs and pulses across the open beaches between 3-4ft. Selected locations which tend to focus these swells due to reef bathymetry occasionally saw a few bigger 5ft bombs roll through.
As for today, the surf has generally been holding in the 3ft range, occasionally lifting to 4ft. Light seabreezes have persisted throughout the day, adding a small amount of bump into the mix.
This week (Thursday 28th - Friday 29th):
We are still on track to see one last pulse of easterly groundswell generated by an intensification of Ex-Tropical Cyclone Victor as underwent extra-tropical transition last week.
The first signs of this swell should be in the water this evening, with a peak in size on Thursday morning. Open beaches should bump back up to the 3-5ft range, holding there for the majority of the day.
Meanwhile, a northeasterly fetch has been setting up off the coast of NSW throughout today as an inland trough interacts with a strong Tasman Ridge.
Winds of 20-30kts look to hug the coast this evening, strongest off the South Coast. This fetch then looks to intensify slightly to around 25-35kts on Thursday, although moving slightly offshore and not pushing in as close to the coast.
Nevertheless, we should see a low quality northeasterly windswell build to the 2ft+ range by Thursday afternoon. The same breeze generating this swell will have an impact on the quality, making for choppy options, marginally cleaner but smaller at protected northern corners.
South facing beaches will have to rely on refracted groundswell energy, but will also offer much cleaner options.
During Friday, models suggest that a low pressure trough will deepen over the coast, with the potential for a small embedded low to develop off the just off Mid North Coast.
An easterly fetch may develop around the southern quadrants of this small low, leading a small east/southeasterly windswell to around 2ft for the Sydney and Hunter coasts, larger along the South Coast at around 2-3ft.
The underlying east/northeasterly groundswell will also be in the water, fading from the 3-4ft range.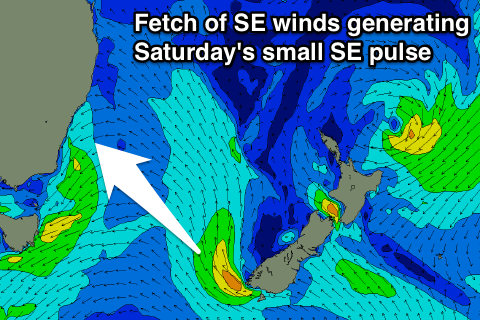 A third and final swell source should also fill in across the south facing beaches generated by a small southeasterly fetch off the southern top of New Zealand's South Island.
Broad, but modest southeasterly fetches over the Tasman associated with this system should provide a small amount of energy late on Thursday into Friday, with the main swell from the 25-35kt fetch peaking late on Friday into Saturday with options in the 2-3ft range.
The early morning session is looking at light northwesterly breezes, soon tending north/northeasterly and increasing once again. The early session will see the most size off the groundswell with the cleanest options, but don't be surprised if there is some residual lump/scarring on the surface.
This weekend (Saturday 30th - Sunday 31st) and Next week (1st onward):
We are looking at a fairly quiet weekend and start to the week ahead as local and long range swell window become more dormant. Polar charts show the Long Wave Trough to be active to the east and west, while a ridge dominates overhead.
All swell sources are expected to slowly ease, with Saturday dropping from the 2-3ft range, further on Sunday from the 1-2ft+ range.
Saturday morning will be one to keep free, with light westerly breezes tending variable at times, before an easterly seabreeze kicks in during the afternoon. Sunday morning also has the potential to be offshore, tending light onshore late morning.
There are no solid indications of significant swell for the first half of next week, until Wednesday when models are playing with the idea of a very strong southerly change churning up a kick in southerly windswell.
At this stage, we are monitoring the system and Thursday has the potential to see big stormy southerly windswell potentially up to 6ft, model agreement pending.
More detail on Friday.