Plenty of S'ly swell, limited options
Sydney, Hunter, Illawarra Forecast by Craig Brokensha (issued Monday 11th July)
Best Days: Every morning in semi-protected spots this week, Saturday morning
Recap
Saturday's much anticipated pulse of S'ly groundswell showed late across south facing beaches Friday and peaked through the following day with 6ft sets seen across most exposed south facing breaks in Southern NSW, with larger 8ft sets at swell magnets and offshore bommies.
Conditions were great during the morning with offshore W/NW winds, but these gave way to a weak N/NE onshore into the afternoon. The swell started to ease later in the day, and by Sunday only half the size was left across south facing spots with inconsistent 2-3ft waves at south swell magnets under strengthening offshore winds.
A late S'ly change was seen after dark, associated with a cold front pushing up from below Tassie along the Southern NSW coast and with this we've seen a renewal of short-range S'ly swell today.
South facing beaches were in the lumpy 3-4ft+ range this morning, but a further kick in size should be seen this afternoon to 4-5ft, although winds are poor now and fresh from the S'th.
This week and weekend (Aug 12 - 17)
Today's S'ly change and short-range S'ly swell is associated with a strong polar front that fired up under Tasmania Saturday evening, projecting a fetch of weakening severe-gale S/SW winds up past Tassies East Coast through our southern swell window.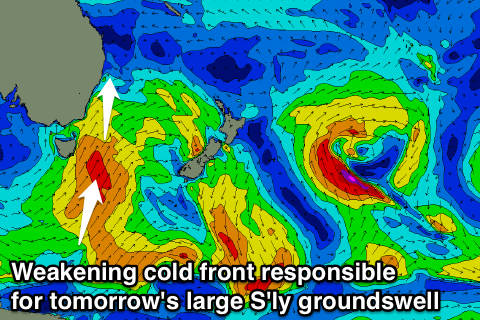 This has produced a large S'ly groundswell which should arrive this evening and peak tomorrow morning across the Sydney region, coming in at 5-6ft across south facing beaches, with the odd bigger bomb across the Hunter.
Unfortunately locations picking up the most size tomorrow will be less than ideal with moderate SW winds expected during the morning ahead of a swing to the S/SE through the day. The Northern Beaches should see a more favourable W/SW'ly early, opening up more options.
Through the rest of the week we'll continue to see plenty of S'ly swell as an amplification of the Long Wave Trough slowly moves east through the Southern Tasman Sea. This will steer front after front up through our southern swell window.
Wednesday morning will still provide plenty of size across south facing beaches, probably easing from the 4-5ft range as a broad fetch of strong S/SW winds persist in our swell window through until tomorrow morning. A secondary reinforcing S'ly groundswell is then expected on Thursday as a weaker and less favourably aligned polar front pushes up towards New Zealand, keeping 3-4ft sets hitting south facing locations.
One final pulse of S'ly groundswell is due Friday afternoon and Saturday morning, from the final polar front firing up within our swell window to the south-west of New Zealand. This front will be very strong but only form late within our window, resulting in smaller side-band S'ly swell energy spreading out from a large swell impacting New Zealand.
South facing beaches should continue to offer inconsistent 3ft sets both Friday afternoon and Saturday morning before fading back into the afternoon and further Sunday.
Winds will continue to remain a problem all week though with a persistent southerly pressure gradient up the coast. This will see the SW tending S/SE wind regime continue through Wednesday and Thursday, while Friday should finally see more favourable W/SW winds developing across most locations during the morning (not just the Northern Beaches).
Into the weekend variable tending light offshore breezes are expected Saturday but into Sunday conditions will deteriorate with a strengthen N/NE wind associated with a deepening inland surface trough (discussed in more detail below).
Next Monday onwards (Aug 18 onwards)
The longer term outlook is quite interesting as we're expected to see an inland surface trough deepening in central Australia, move east and drift offshore early next week some-time.
What this should result in as a strengthening northerly pressure gradient off the East Coast as the trough squeezes against a strong high sitting in the Tasman Sea, kicking up moderate to possibly large levels of NE tending E/NE swell.
If this does eventuate we're expected to see poor winds during the initial building stages of the swell, but once the trough moves offshore, winds should swing accordingly offshore, creating excellent waves. When and if this happens will have to be looked at in more detail Wednesday.