Fun South Coast days this week, Mid on the weekend
South Australian Surf Forecast by Craig Brokensha (issued Monday October 3rd)
Best Days: South Coast today, South Coast Wednesday and Thursday morning, Mid Coast later Saturday and Sunday
Features of the Forecast (tl;dr)
Low point in swell tomorrow with strengthening E/NE winds
Fun mid-period S/SW swell Wed with moderate NE winds, easing and tending variable
Easing S/SW swll Thu with N tending variable winds
Low point in swell Fri with strengthening W-W/SW winds
Mix of new W/SW and SW swells for Sat/Sun with gusty but easing S/SW-S winds Sat
SE tending S/SW winds Sun
Recap
Our fun run of swell seen on the Mid Coast all week faded back to the 1ft range Saturday, ideal for beginners, while a new pulse of swell for yesterday provided some slightly bigger and more surfable sets for the keen.
The South Coast was fun each morning, smallest and best on the magnets Saturday, bigger and cleaner yesterday with quality waves ahead of the sea breeze.
This morning we've still got fun 2ft sets across Middleton with great conditions.
This week and weekend (Oct 1 - 7)
Looking at the week ahead and we've got a funky, strengthening mid-latitude low due to move across us tomorrow, though dropping south-east through the middle to end of the week bringing a shift in winds from the north-east to west.
Swell wise, we'll hit a low point in energy tomorrow, and strengthening E/NE winds will create deteriorating conditions on the South Coast as the low moves in and across us.
Wednesday looks to be the pick for the South Coast as winds improve, easing and tending NE through the morning, variable into the afternoon and with a new pulse of mid-period S/SW swell.
This swell has been upgraded a touch due to the low linked to it being a little stronger than forecast on Friday. It's currently south-west of Tasmania, generating a fetch of W/SW gales, with the swell due to peak Wednesday morning to 3ft across Middleton, easing slightly later and then down from 2ft+ on Thursday.
The Mid Coast won't see any size from this low at all.
Thursday will be good again for the magnets down South with a N'ly offshore, tending variable into the afternoon but becoming smaller.
There'll be no swell left into Friday and strengthening W-W/SW winds will create average conditions, a lay day.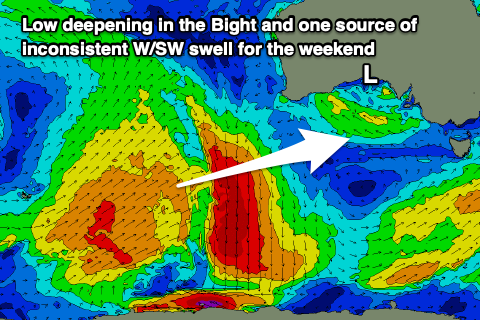 Unfortunately another trough will bring gusty S/SW-S winds on Saturday, easing into the afternoon, spoiling a new mix of W/SW and SW swells.
These are being generated today and tomorrow by a distant fetch of strong to sub-gale-force W/SW winds to the south-west of Western Australia, while some additional small looks to be generated by a very slim fetch of W/SW-SW gales, to our south-west on Thursday.
There'll also be a third W/SW swell generated by weak W/SW fetches under Western Australia Friday and this looks ideal for the Mid Coast.
Winds are due to go SE on Sunday with a peak in swell energy to 1-2ft in the gulf and 3ft+ across Middleton, though we'll confirm this on Wednesday.
Longer term there's nothing too significant on the cards but more on this Wednesday.