Poor outlook for the South Coast
South Australian Surf Forecast by Craig Brokensha (issued Wednesday March 30th)
Best Days: Mid Coast for the keen tomorrow (afternoon the best), Mid Coast beginners Friday
Features of the Forecast (tl;dr)
Mod-large SW groundswell tomorrow with strong SE tending S/SE winds
Easing mix of SW and S/SW swell Fri with strong SE tending S/SE winds
Moderate sized mix of S/SE windswell Thu and Fri
Fading swell Sat and Sun with fresh E/SE tending S/SE winds Sat, lighter E/NE-NE Sun AM but weak and small to tiny
Small, inconsistent mid-period W/SW swell Tue with S/SE winds
Recap
Tiny, clean and surfable (just) 1ft+ waves continued on the Mid Coast yesterday morning, with today seeing the swell fade to 0.5ft. The South Coast was bumpy and average with stronger onshore winds this morning.
This week and weekend (Mar 31 – Apr 3)
The south-east winds are back and they'll continue to blow hard until Sunday across the South Coast, spoiling a moderate-large sized SW groundswell.
The catalyst for the poor conditions is a strong high moving into the Bight, squeezing against a deepening low in the Tasman Sea. This will direct strong SE tending S/SE winds across the state tomorrow and Friday, shifting more E/SE into Saturday morning as the high starts to move east as the low weakens.
This will create clean conditions on the Mid Coast but tomorrow's expected swell will be on the small side of the coin. The source of this SW groundswell was a strong polar low that formed south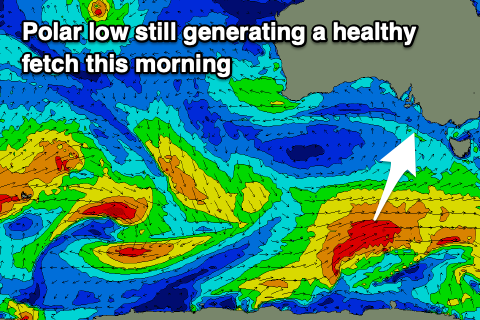 -east of the Heard Island region on the weekend with it tracking slowly east through the start of the week. The remnants of the low was still generating a healthy fetch of strong to gale-force fetch of SW winds in our southern swell window, south-west of Tasmania this morning. This will slow the easing trend Friday as the swell clocks more S/SW in direction.
Size wise the Mid Coast looks to come in at 1-1.5ft with the magnets likely to see the odd bigger sneaker on the favourable parts of the tide (afternoon). This will be best suited to fun boards. Middleton should see 4-5ft sets with the chance of the odd bigger one, easing back from 3-4ft on Friday, mixed in with some poor, localised S/SE windswell. The Mid Coast will be back to 1ft on Friday and only for beginners.
The weekend will be generally poor, even with that E/SE breeze as it'll create lots of chops and bumps with easing 2-3ft surf across Middleton. Sunday should become cleaner with a light E/NE-NE breeze but there'll be no swell with size or power left. Expect weak 1-2ft leftovers across Middleton.
Heading into next week, there's nothing too major due but a small, inconsistent W/SW swell should be seen across the Mid Coast on Tuesday, generated by a relatively weak mid-latitude frontal system projecting up towards Western Australia on the weekend. At this stage it looks to be 1-1.5ft and with S/SE winds, but we'll review this Friday. Following this additional small pulses of W/SW swell are on the cards for later week, but check back Friday.